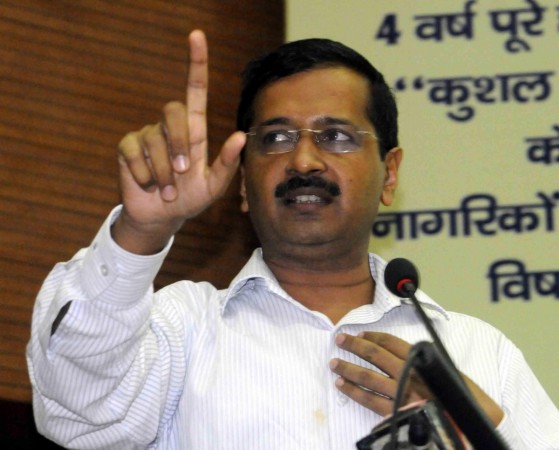 Delhi Chief Minister Arvind Kejriwal, who claimed that the Central Bureau of Investigation (CBI) raided his office on Monday, found consolation from West Bengal Chief Minister Mamata Banerjee, who called the incident 'unprecedented'.
Kejriwal claimed that the CBI 'sealed' his office and even looked into his files. However, sources from the central agency told the media that the raids were carried out on the office of Delhi CM's secretary Rajender Kumar over a complaint of corruption.
Even while the ruling BJP government has refuted claims that it ordered the CBI raids, Kejriwal put up a Twitter storm of tirade against Prime Minister Narendra Modi and the party.
Kejriwal called Modi a 'coward' and a 'psychopath' and asked the PM which file he wished to see.
Banerjee also took to Twitter to say she was shocked at the raids on the Delhi chief minister's office. Kejriwal responded to 'Mamata Didi', claiming that this was an 'undeclared emergency'.
Sealing of a Chief Minister's office is unprecedented. I am shocked @ArvindKejriwal

— Mamata Banerjee (@MamataOfficial) December 15, 2015
Mamata Di. This is undeclared emergency https://t.co/l1EQOTfrFy — Arvind Kejriwal (@ArvindKejriwal) December 15, 2015
Many Twitterati, however, criticised Kejriwal for his language against the Indian PM -
This is the language a CM uses for the PM of the country & they call Twitterari abusive MT @ArvindKejriwal: Modi is a coward and a psycopath

— Arvind Gupta (@buzzindelhi) December 15, 2015
No where in any civilised world any CM or Govt Official would use this Abusive language .Shame on you even for endorsing it @ArvindKejriwal

— Kaushik Pandya (@KaushikPandya48) December 15, 2015
The issue led to a stormy session in Parliament on Monday, which has already been stalled due to protests by Congress as it accused the BJP government of 'political vendetta' against its leaders Sonia Gandhi and Rahul Gandhi.