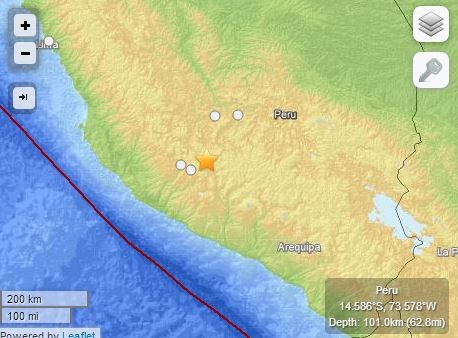 A major earthquake measuring 6.9 on the Richter scale struck central Peru on Sunday, according to the U.S. Geological Survey.
The quake occurred at around 23:21 (local time). The epicenter was about 43 kilometers (27 miles) of Tambo, 467 kilometers (293 miles) southeast of Lima, Peru's largest city. The quake had a depth of 101 kilometers (62.8 miles), USGS said.
There were no immediate reports of damage or injuries, spokesman for Peru's fire agency told AP.
A local news channel, El Comercio, reported that the residents fled their homes and ran to a nearby parade ground for safety in the Huamanga, the capital of the Ayacucho region of Peru.
In Cusco, a city in southeastern Peru, phones, internet signals and power outages were reported, according to El Comercio.
The quake hit Peru almost 12 hours after a 6.0 magnitude earthquake struck Northern California, near Napa.