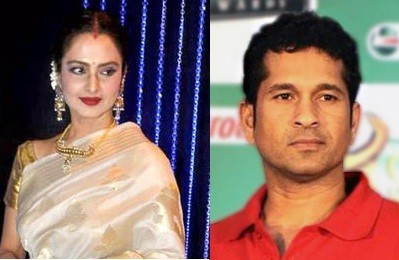 With Madhya Pradesh Assembly polls slated to be held next month, every political party will be submitting a list of their star campaigners. And guess who might campaign for Congress? Bollywood's yesteryear famous actress Rekha and Cricket maestro Sachin Tendulkar are likely to enter the battleground in MP for the party.
Congress is trying its best to end the tenure of Bharatiya Janata Party (BJP) leader and Chief Minister Shivraj Singh Chouhan in the state.
The state Congress wing has shortlisted the Bollywood diva and legendary batsman, both nominated Rajya Sabha members, to lure voters in the upcoming assembly elections.
They have submitted a list of prospective campaigners to the party's central leadership for approval. Bollywood actresses Raveena Tandon and Nagma, who have been actively campaigning for the Congress since long, also feature in the list.
Tendulkar, who recently announced his retirement from cricket in November, and Rekha were nominated for the Upper House of the Parliament in April 2012.
It could be seen as a payback time for both but the popular national icons are yet to accept the offer. Congress chief ministerial candidate Jyotiraditya Scindia, who is president of the regional Madhya Pradesh Cricket Association and whose late father Madhavrao Scindia was also an influential cricket administrator with close ties with Sachin, will use his cricketing links to persuade the renowned batsman.
The move indicates two things, firstly, that the Congress is afraid to rely solely on party Vice President Rahul Gandhi's image. Second, the party is wary of young urban voters and hence is likely to count on the star campaigners like Rekha and Sachin, who could bring in the GenX vote.