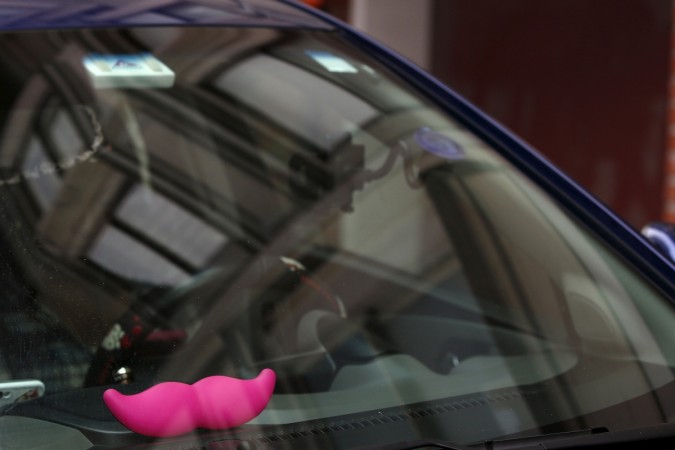 The ride-hailing company, Lyft, has decided to do away with its trademark pink mustache, and replace it with a rather funky glowing look, reminiscent of a late-80s videogame cover (a style romping back into vogue). It's actually a Bluetooth-enabled, LED gadget called the Amp.
On Tuesday, Lyft unveiled a new emblem for its drivers to sport in the front of their cars, and unlike its previous two symbols, it does not feature a mustache at all.
The new device is pill-shaped and displays colored lights and the company's name. On the back, it can display signs and words, such as a greeting for the passenger, Fortune reports.
According to the Verge, the Amp connects over Bluetooth to the driver's app, which Lyft says allows it to create "a new line of communication" between drivers and passengers.
"For example, when you leave the club at 2AM and aren't sure which Honda CR-V is your Lyft ride, the Amp will display a specific color to help you get in the right car. To go a step further, you can tap a button in the app to display the same color on your smartphone and make it easier for your driver to find you as well."
"It basically cues you to the driver, the driver back to you, so everyone's looking for the same color," said Ethan Eyler, the head of Lyft's ride experience division.
The new device, reports Fortune, might also offer Lyft a glimpse into a future with self-driving cars. The ride-sharing company, like many others, is very bullish on autonomous driving. In September, Lyft Co-Founder and President John Zimmer made a bold prediction that by 2025, all Lyft rides in major US cities will be completed by self-driving cars.
And while Lyft is leaving much of the self-driving car technology development to General Motors, which also invested $500,000 into the ride-hailing company in January, Lyft will still be the entity its customers interact with when taking a ride.
"This is absolutely an extensible solution in a world where there's no driver in the car," Lyft vice president of product Tali Rapaport said during a presentation of the new device to the press.