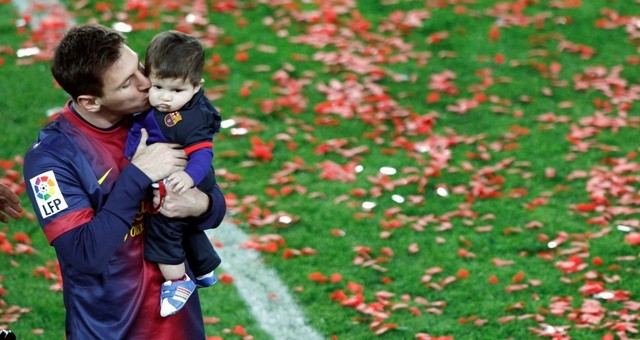 Footballer Lionel Messi welcomed his second son -- Mateo -- with girlfriend Antonella Roccuzzo on 11 September, 2015. His older son Thiago will turn three in November.
While Messi missed the club's training session on Friday to be with the new mother, Barcelona manager Luis Enrique has confirmed that Messi will be available for today's La Liga game against Atletico Madrid at the Vicente Calderón.
Barca allowed the star forward a leave from the training on Friday for "personal reasons".
"He [Messi] is available to play. He is on the list. The club gave him permission not to train today for personal reasons," Enrique said in the pre-match presser.
Reports surfaced in the Spanish media yesterday that the newborn was going to be named Benjamin. However, the Barcelona hotshot's brother, Matias Messi, mentioned in a series of tweets that the media have been reporting prematurely about the same, and said that the little one had been named Mateo.
Quiero dejar dos cosas en claro,primero que el hijo de leo no se va a llamar Benjamin como dicen los medios,y segundo todavía no nació.

— Matias Messi (@_MatiasMessi) September 11, 2015
Yo voy avisarles cuando así sea!!!Graciass

— Matias Messi (@_MatiasMessi) September 11, 2015
Bueno gente,acaba de NACER MATEO,es hermoso,más tarde voy a darles más detalles ahora a disfrutar!!!!GRACIASS A TODOS!!!!

— Matias Messi (@_MatiasMessi) September 11, 2015
The news has been lapped up by the social media with several of Messi's fans and followers congratulating him.
@_MatiasMessi Felicidades a la Familia de El Mejor De Todos Los Tiempos y Bienvenido MATEO. . . Felicidades Anto y Leo ?❤

— Fan del Tatoo Messi (@HernanBaigoria) September 11, 2015
Congratulations to Lionel Messi (the greatest) and Antonella Roccuzzo, for the birth of their second child, Mateo Messi.

— Arsenal News (@__arsenalnews_) September 11, 2015