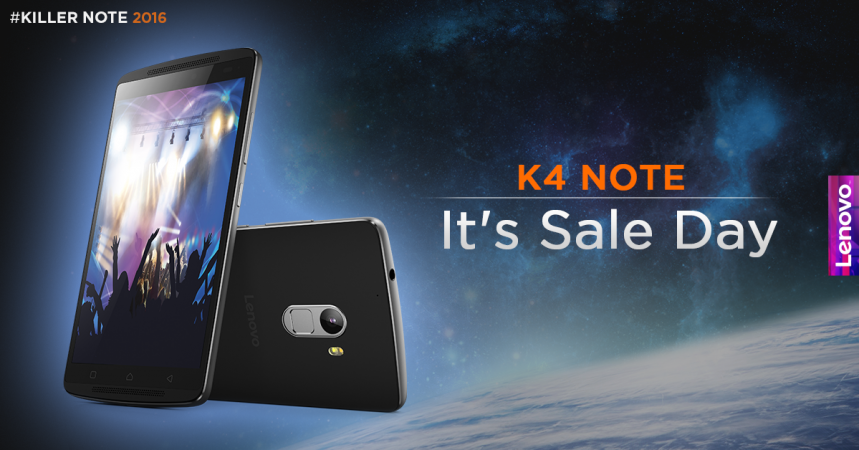 Lenovo K4 Note will be available without the Ant VR headset Wednesday, 2 p.m. onwards. The Amazon.in-exclusive flash sale won't last for long, considering the ongoing demand for the Rs 11,998 handset. The sale is open only for registered customers.
Lenovo K4 Note has got a lot of attention with its affordable price tag combined with premium features. The Chinese smartphone-manufacturer has sold more than 1 lakh units in India through weekly flash sales so far, and the trend continues. On Tuesday, the Lenovo K4 Note VR Bundle was sold out in a matter of seconds, but the same registrations can be used to participate in Wednesday's sale.
Lenovo launched the K4 Note smartphone in India early last month, and the first flash sale was conducted on 20 January. Each week, the company is holding two flash sales on Tuesday and Wednesday for the K4 Note Ant VR bundle and just the K4 Note smartphone, respectively. The K4 Note bundle comes with Ant VR headset to experience virtual reality and costs Rs 12,499. If customers choose to buy just the K4 Note smartphone, it will cost Rs 11,998.
Lenovo K4 Note has received great response from shoppers, and the affordable price tag for premium features is the key reason. In terms of specifications, the K4 Note smartphone sports a 5.5-inch Full-HD display, 13MP primary camera, 5MP front-snapper and a 3,300mAh battery.
Lenovo K4 Note is powered by a 64-bit MediaTek octa-core processor, 3GB RAM, 16GB expandable storage and a fingerprint scanner on the rear panel. Since the handset is selling like hot cakes, it is best to spare a few minutes for preparation prior to the sale, which begins at 2 p.m. on Wednesday.
Make sure you are logged in to your Amazon.in account and set up payment and shipment info for quick checkout. When the sale begins, quickly add the K4 Note to the cart and proceed to checkout. If the buyer fails to complete the order within 15 minutes, the smartphone will be available for customers in the Waitlist. If you missed the sale, join the Waitlist.
In case the Waitlist is full, the next flash sale for Lenovo K4 Note is scheduled for February 9, 2016, for the VR bundle and February 10, 2016, for the standalone handset on Amazon.in. Both flash sales begin at 2 p.m. and require registration.