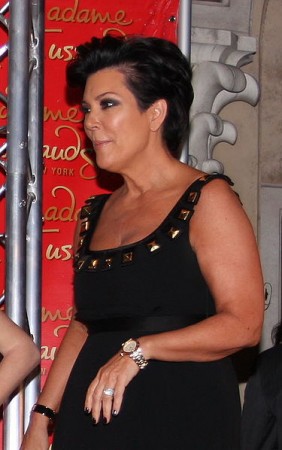 Have Kris Jenner and Bruce Jenner reunited?
The 58-year-old reality TV star, who is in Paris for her daughter Kim Kardashian's wedding was spotted with a wedding ring on her finger from former husband Bruce.
The momager was seen flaunting the ring on May 21, as she walked out on the streets of Paris wearing a black jacket with gold buttons and a matching skirt, along with oversized sunglasses.
The Jenner couple called off their wedding in October last year. However, they did maintain that they have seperated on amicable terms.
"Kris and I are deciding what we want to do in the future and where we want to go," E! qouted Bruce, as he announced his separation from Kris on "KUWTK" Season 9 premiere.
"And both Mom and I seem to be very happy with the arrangement we have now. So for the time being, we're going to keep the beach house. Nobody's getting a divorce, nobody's doing anything right now," he added.
Interestingly, after separation Kris and Bruce have also taken a family vacation to Thailand. And now that the former couple is together in Paris, sparks could fly between the two.
The duo reportedly enjoyed dinner with the rest of the family at Hotel Costes on Wednesday, May 21, and later visited the carousel near the Eiffel Tower. Their kids including Kendall and Kylie Jenner, Kourtney, Brandon Jenner as well as his wife Leah also joined the couple.
"They were all smiling and looked like they were having a lot of fun. They were riding the Merry-Go-Round together, then it started to pour and they ran into their cars," a source told US Weekly.
Meanwhile, Kris is extremely excited for Kardashian and Kanye West's wedding. Sharing her excitement the former television show host tweeted, "Love on a merry-go-round!!!! #nightsinparis #herecomesthebride #KanyeheartsKim."
Kimye is set to tie the knot on May 24. The soon to be married couple has a daughter together named North West.