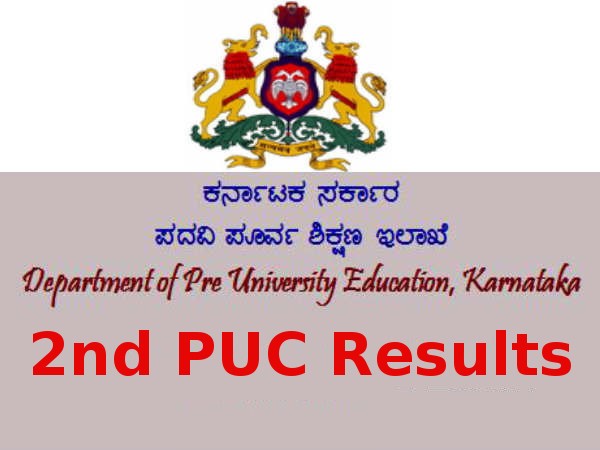 The Karnataka second PUC (Pre-University Certificate) results were announced at 11 a.m. on May 25. Kimmane Ratnakar, the Primary and Secondary Education Minister, formally announced the results at 10.30 a.m.
Click Here to Check the PUC Results
The pass percentage in the second PUC in 2016 is 57.20, about three percent less than that in 2015. The pass percentage stood at 60.54 last year. The exams of the Second PUC was held from March 12 to March 28 in 1,032 centres in the state. A total of 6,36,368 students appeared for the exam, of which 3,64,013 have passed the exam.
The Dakshina Kannada district has topped the list once again, with the highest pass percentage (93.09 percent), while Udupi is in the second place with 90.35 percent and Kodagu is in the third place with 79.35 percent. Yadagiri district is at the last place in the list with 44.16 percent.
Anitha Basappa from Indhu PU College in Bellary district has topped in the Arts stream, while Sahana Kulakarni from VS Darbar PU College in Vijayapura has secured the highest marks in the Commerce stream and Rakshit Thaman from Saradar Vallabhai Patel College in Bengaluru has got the highest marks in the Science stream in 2016.
The pass percentage in the Commerce, Science and Arts streams is 64.16, 62.25 and 42.12, respectively. A total of 91 colleges in the state have produced a shocking result of zero pass percentage.
District-wise Rankings:

| | | | | | |
| --- | --- | --- | --- | --- | --- |
| Distict Name | Place | Percentage in 2016 | Percentage in 2015 | Percentage in 2014 | Percentage in 2013 |
| Dakshina Kannada | 1 | 90.48 | 93.09 | 86.04 | 91.76 |
| Udupi | 2 | 90.35 | 92.32 | 85.57 | 92.72 |
| Kodagu | 3 | 79.35 | 79.84 | 75.87 | 80.83 |
| Uttara Kannada | 4 | 76.44 | 81.19 | 72.36 | 82.97 |
| Bengaluru South | 5 | 70.88 | 73.04 | 64.10 | 74.84 |
| Bengaluru North | 6 | 70.83 | 72.80 | 67.16 | 73.11 |
| Shivamogga | 7 | 69.28 | 74.41 | 68.86 | 77.07 |
| Chikkamagaluru | 8 | 67.34 | 75.18 | 69.29 | 78.02 |
| Bengaluru Rural | 9 | 66.38 | 69.40 | 64.74 | 73.11 |
| Bagalkot | 10 | 65.91 | 70.40 | 59.51 | 66.76 |
| Mysuru | 11 | 65.53 | 65.73 | 58.76 | 70.70 |
| Hassan | 12 | 65.47 | 66.64 | 58.66 | 69.18 |
| Chamrajnagar | 13 | 64.86 | 72.16 | 62.81 | 77.56 |
| Chikkaballapur | 14 | 63.64 | 68.44 | 55.14 | 65.75 |
| Dharwad | 15 | 62.86 | 67.25 | 59.37 | 66.26 |
| Belagavi | 16 | 62.05 | 64.87 | 58.78 | 63.91 |
| Kolar | 17 | 61.76 | 63.68 | 56.03 | 62.71 |
| Haveri | 18 | 60.54 | 71.58 | 65.29 | 76.11 |
| Vijayapura | 19 | 60.39 | 60.65 | 50.34 | 51.54 |
| Ballari | 20 | 59.09 | 63.48 | 50.99 | 63.56 |
| Davangere | 21 | 58.01 | 62.71 | 57.90 | 64.74 |
| Kalburgi | 22 | 57.05 | 61.06 | 46.71 | 54.79 |
| Tumkur | 23 | 56.53 | 61.02 | 58.00 | 67.38 |
| Mandya | 24 | 56.52 | 58.57 | 52.46 | 62.56 |
| Ramanagar | 25 | 56.36 | 63.60 | 53.36 | 63.94 |
| Koppal | 26 | 54.32 | 58.35 | 49.46 | 57.39 |
| Bidar | 27 | 52.07 | 54.40 | 44.94 | 55.94 |
| Raichur | 28 | 49.61 | 54.88 | 46.11 | 50.00 |
| Gadag | 29 | 49.28 | 51.02 | 52.12 | 59.51 |
| Chitradurga | 30 | 47.55 | 56.67 | 48.04 | 61.56 |
| Yadagiri | 31 | 44.16 | 62.09 | 53.60 | 46.02 |