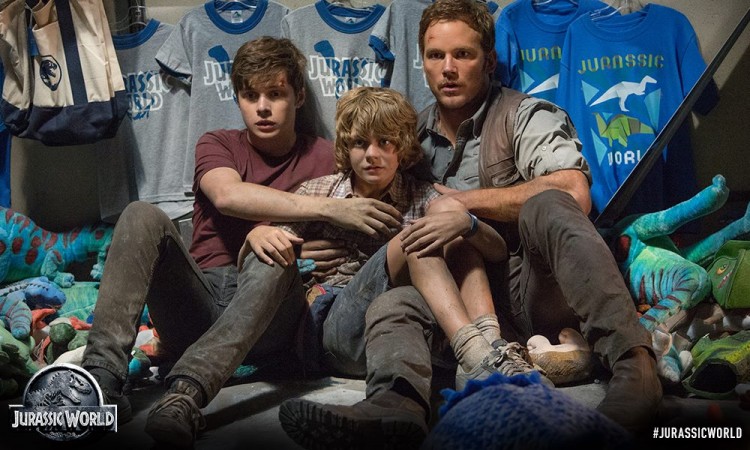 Jurassic World 2 is scheduled to hit the big screens in June 2018 with Chris Pratt and Bryce Dallas Howard in lead roles.
As the two celebrities are preparing themselves to continue portray their roles as Owen Grady and Claire Dearing, the followers of Jurassic Park series are eager to know about the other cast members to reprise their roles in the new sequel.
Although speculations are rife that Nick Robinson and Ty Simpkins might join the Jurassic World sequel as Zach Mitchell and Gray Mitchell, the franchise is yet to make an official statement regarding their casting.
But chances for the two to be back onscreen cannot be ruled out as they have already expressed their interest in rejoining Owen and Claire in Jurassic World 2. While Simpkins revealed that he would be wiling to do many more dino-centric movies, Robinson stated that he would be thrilled to rejoin the franchise.
The 21-year-old even shared a few details about the changes that he hopes to make in his character and teased that he wished to ride in a helicopter. But since it did not turn out well for Simon Masrani, he would prefer a motorcycle ride. "I'm game, I'm up for whatever, I'd take a spin on the motorcycle," Hollywood Life quoted him as saying.
Meanwhile, there were several speculations doing the rounds that the iconic characters from Jurassic Park series, Ian Malcolm, Alan Grant and Ellie Sattler, might be back in Jurassic World 2.
However, Jeff Goldblum and Sam Neill indicated that they may not return for the new sequel of Jurassic Park. While Neill revealed that he is yet to get a casting call from the franchise, Goldblum stated (via Metro), "I had a big satisfying meal with being in two of them."
In the meantime, Laura Dernmight is yet to comment on the recent buzz regarding her role as Ellie Sattler in the upcoming Dino-centric movie.
So the fans of Jurassic Park series will have to wait a little longer to know more about Steven Spielberg and Colin Trevorrow's casting plans for Jurassic World 2.