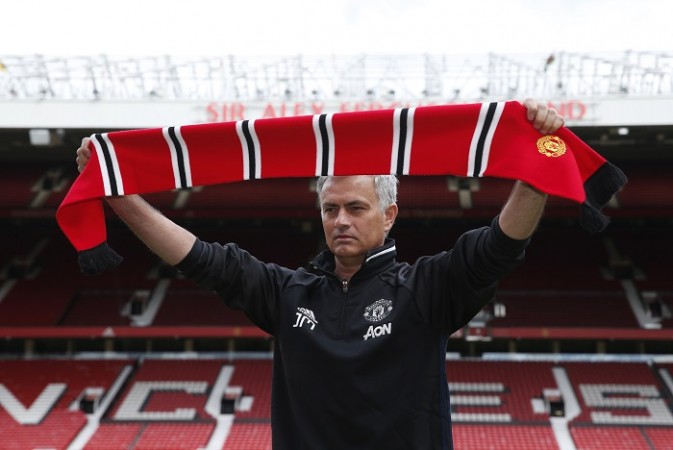 Now that Jose Mourinho has landed his dream job at Manchester United, the new manager cannot wait to get cracking at Old Trafford and experience the atmosphere from a home perspective. Mourinho has certainly talked the talk since taking over the reins from Louis Van Gaal, and what he is looking forward to the most is stepping out at Old Trafford as Manchester United manager.
"It's a pity that it's not tomorrow because I'm waiting for that moment," Mourinho told Adidas Front Row.
Being the Manchester United manager is what Mourinho has wanted ever since Sir Alex Ferguson retired, and while he might have been disappointed at being overlooked for the role the first time – Sir Alex decided to go with David Moyes – the Portuguese eventually landed up in the position he has so craved.
Having done that, it will be all about getting the right results as Manchester United manager now, and confidence is certainly not something the former Chelsea, Inter Milan and Real Madrid coach lacks.
"I understand that they expect a lot from me but I also expect a lot from them," Mourinho said of the expectations and the new fans he has to answer to. "There is no chance we will be happy if we are not together and I think the passion [they have] for this club is really amazing.
"I'm not humble when I talk about targets, I'm quite aggressive on that. I want everything and everything is to win matches, play well, score goals, don't concede goals... everything.
"I want everything. I know that we are speaking about a hypothetical situation which is very difficult to reach but I want everything."
To achieve everything, Mourinho will need to make Old Trafford a fortress again, the kind of stadium rival teams are wary of playing at. That aura around Old Trafford has dimmed considerably since Ferguson's retirement, but if there is one man who can bring a bit of intimidation back to Manchester United's home ground, it certainly is Mourinho.
"I've had so many years in football at a high level, so obviously I am not nervous, I feel very calm and I know that I am ready for the job, but to go into the stadium as Man United manager... I'm sure that will be special," Mourinho added.
"The first time I managed there it was exactly a dream for me because it was on the way to winning the Champions League with Porto. We scored a goal in the last minute at Old Trafford and made history for myself and my country.
"So, for me there was always that connection that anything is possible, it's the Theatre of Dreams.
"I did it with Porto, I won there with Chelsea, I won there with Real Madrid, so why can't I do it with Man United, playing at home with the fans in the stadium behind us? I am waiting for that."
While questions are being and will continue to be raised about the playing style that Mourinho will implement, if he picks up positive results on a consistent basis, particularly at Old Trafford, all those concerns will go into the back burner, because, at the end of the day, football is a results business and wins, and trophies, trump everything else.