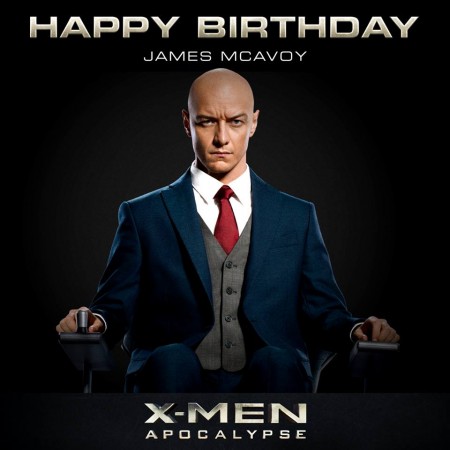 James McAvoy is a Scottish actor who received international fame with movies like "Wanted" (2008) and X-Men prequel movies "X-Men: First Class" (2011) and "X-Men: Days of Future Past" (2014).
McAvoy is perhaps best known for playing the role of Charles Xavier/Professor X in "X-Men" movies based on Marvel comic books of same name. He will be reprising his role in the upcoming "X-Men: Apocalypse" (2016).
Besides working in movies, McAvoy has also acted in several television shows, stage drama and animated voiceovers. Born on April 21, 1979, as the actor celebrates his 37th birthday, here are some of his other less known acting ventures:
"Bollywood Queen" (2003)
McAvoy played a young Scottish boy in the movie, who falls in love with an Indian girl, Geena (Preeya Kalidas). However, both of them get into serious troubles when their respective families find out about their affair. The movie was a British-Indian take on William Shakespeare's "Romeo and Juliet."
"Chronicles of Narnia: The lion, the witch and the wardrobe (2005)
McAvoy played the role of a friendly faun in the movie that was based on C.S. Lewis' novel of the same name. He had a small but significant role in the movie where he befriends one of the protagonists and afterwards helped her to defeat the reign of the White Witch.
"The Last King of Scotland" (2006)
Based on Giles Foden's novel of the same name, McAvoy played the role of Nicholas Garrigan in "The Last King of Scotland" who works with a Ugandan missionary clinic run by a couple and eventually falls in love with the wife of the doctor.
"Atonement" (2007)
McAvoy played the role of Robbie Turner in this romantic-drama war film directed by Joe Wright and based on Ian McEwan's novel of same name, published in 2001. McAvoy has described the character of Robbie as one of the most difficult characters he has ever played.
"Gnomeo and Juliet" (2011)
McAvoy provided voiceover for the titular character of Gnomeo in this 3D animated film. In the movie, Gnomeo is a blue gnome counterpart to Romeo Montague, based on the character from Shakespeare's play "Romeo and Juliet."