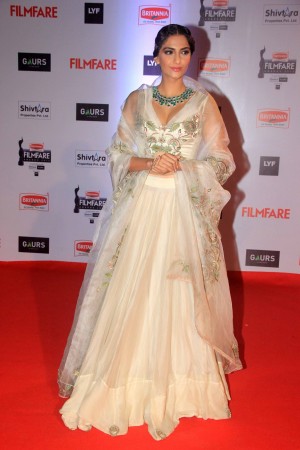 Bollywood actress Sonam Kapoor is flying high with to her brief appearance in Coldplay's music video "Hymn for The Weekend". Though her short appearance in the video made her the butt of jokes, the actress has not taken the trolls seriously, instead enjoying her fan-girl moment.
"First of all, I am in a Chris Martin video and I am a huge fan of Coldplay. When I was in high school, I grew up (listening to) Oasis, Coldplay and U2. And if somebody told me at 16 that I was going to be in a video, I would go: 'Shut up!'," Sonam told Gulf News tabloid! in an interview.
Sonam said Chris Martin's agent approached her for a cameo, but Sonam's agent was not convinced with the "just three shots" she got in the video. However, Sonam didn't think that way. "I was like it's Coldplay, dude. I get VIP access to them forever," Sonam said.
"So on my birthday, I get to take all my friends for a concert. I get VIP access to their concerts forever and I am going to make them sing 'Yellow' to me. This is good. When I was in high school, I listened to 'Yellow' from Coldplay and 'Wonderwall' from Oasis and I used to cry and wondered if anyone would sing these songs to me. And there I am, doing this video. Everybody is going on about these three shots alone," she added.
The video, which also features Beyonce, has captured millions of hearts. Sonam looks gorgeous in desi avatar in a ghagra choli, and has worn the traditional mang tika and a nose ring. Directed by Ben Mor, the "Neerja" actress filmed extensively at temples and forts across Mumbai.
On the other hand, Coldplay has tweeted about their experience in India and thanked Sonam for being a part of it.
1/3: I see Hymn for the Weekend is at No.1 on iTunes India - unbelievable!! Thank you to the people of India for making us feel so welcome…

— Coldplay (@coldplay) January 31, 2016
2/3: and especially the residents of Worli Village, Mumbai for making our video possible. We had so much fun.

— Coldplay (@coldplay) January 31, 2016