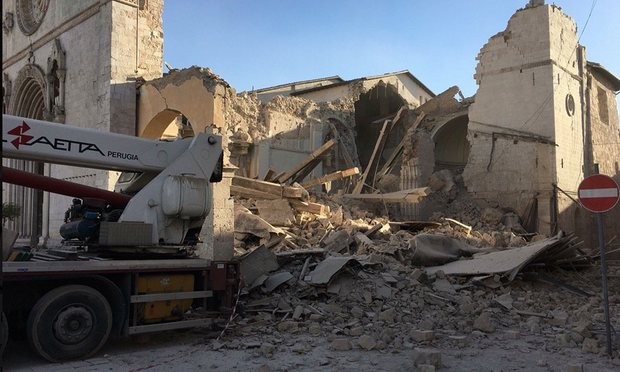 A powerful 6.6-magnitude earthquake rocked central Italy on Sunday morning, according to the United States Geological Survey, sending residents running onto the streets in a panic.
CNN reported that rescuers were seen in the area around crumbling buildings soon after the tremor hit, helping evacuate a group of nuns from a building. They are working through aftershocks, striking every 20 minutes or so.
Sunday's earthquake's struck at a depth of 10 kilometers, according to USGS, making the epicentre relatively shallow. Generally, the more shallow the epicentre, the more a quake is felt at the earth's surface, and the more damage it is likely to cause.
Central Italy has been hit with a series of earthquakes this week, and Sunday's tremor hit roughly five kilometers from Preci, not far from where two powerful quakes struck on Thursday.
According to CNN, there were no immediate reports of casualties. Many residents in the region had already evacuated to emergency camps and hotel rooms paid for by the government after the tremors earlier in the week, and schools had shut down in anticipation of powerful aftershocks.
But initial images of damage to historical buildings from Sunday's quake show devastation is some parts. Many building shad not yet been reinforced since this week's earlier quakes.
Part of the much-visited in Norcia has been levelled.
Rescuers have also expressed fear of mudslides and remained wary about the risk of bringing heavy equipment up narrow roads linking the towns, villages and hamlets in a hilly region of the country.
Two earthquakes on Wednesday -- which had magnitudes of 5.5 and 6.1 -- did not result in any reported deaths. But the destruction of nearby historic structures was widely seen as a loss to cultural heritage.
Powerful tremors on Wednesday and Thursday happened about 50 miles north of where a quake killed 300 people in August.