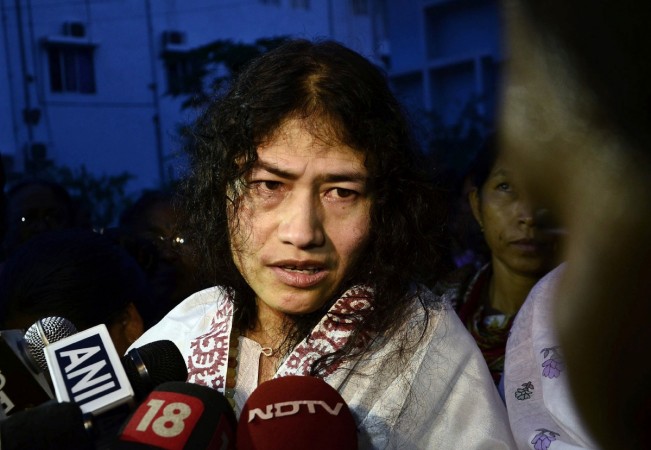 Manipuri activist Irom Chanu Sharmila, also known as the state's 'Iron Lady', broke her 16-year long fast in Imphal on Tuesday, and declared that she wants to be the chief minister of Manipur. She was released on Rs.10,000 personal bond and will be heard in court again on Aug. 23, her lawyer told ANI on Tuesday.
The 'Iron Lady' broke down while ending her almost two-decade fast and in an emotional speech said, "I will never forget this moment...Let them kill me the way people killed Mahatma Gandhi with accusation of anti-Hindu...I am being the real embodiment of revolution, and I want to be the CM of Manipur to help people."
"I know nothing about politics, and about academic line also. My education is very very low. But I want to convince our people that my power will shower upon people, and without sense of defensive and possessive nature. I will use everything I have for a positive society, foremost thing will be removal of this draconian law," she said while speaking about the Armed Forces (Special Powers) Act (AFSPA).
According to the Hindu, Sharmila argued for herself and asked the court to drop all charges against her. She refused to accept that she had committed a crime when the court said that charges would be dropped if she admitted that she was guilty.
The activist wishes to contest the Manipur elections in 2017 as an independent candidate.
Sharmila, who arrived at the District and Sessions Court earlier today, was on fast for 16 years, demanding a ban on the AFSPA. The 44-year-old activist was being force-fed through a nasal tube to keep her alive since 2000 at a hospital.
"She will be produced before a judicial magistrate tomorrow and the court will release her from judicial custody after she breaks her fast as she had announced a fortnight ago," Singhajit, Sharmila's brother, told PTI on Monday, adding that their 84-year-old mother Shakti Devi will not be present in court when she ends her fast.
"She will not go there to meet her. She is waiting for the moment of her victory which will come only when AFSPA is repealed," Singhajit said.
Sharmila had earlier said that she would end her fast and join politics to ban AFSPA in the state. Her family and supporters have not been able to meet her since the announcement and do not know where she will be staying after her release.
"We don't know where she will go after her release. If she wants to come home and stay with us, we are ready to welcome her. But it is her desire," Singhajit told reporters, while adding that he would like to meet her to "hear her last decision" and plan their future strategies to repeal AFSPA.
Doctors have said that Sharmila will be kept on a liquid diet for a few days because her body might not be able to adjust to solid food suddenly, NDTV reported.
"A person who has not eaten solid food for 16 years cannot start it suddenly. She has to start slowly and gradually in small quantities... Her condition is okay as she has been getting all nutrients. She can walk also," Dr Laishram Deben, the Director of Jawaharlal Nehru Institute of Medical Sciences Hospital, was quoted by PTI as saying.
Imphal (Manipur): Irom Sharmila at District & Sessions Court a short while ago; will break her fast today. pic.twitter.com/5GW1DizphB

— ANI (@ANI_news) August 9, 2016
Imphal (Manipur): Irom Sharmila to break her fast today, leaves for court. pic.twitter.com/FYhpRJA6Y1 — ANI (@ANI_news) August 9, 2016
Sharmila began her fast in November 2000 after which she was arrested and force-fed at the Jawaharlal Nehru Hospital in Imphal to keep her alive. The hospital was also a prison for her. She has since been arrested for allegedly attempting suicide.
The AFSPA, which was passed by Parliament in 1958, gives special powers to the Armed Forces to arrest people without warrant and search anyone's property in areas where it is imposed. Sharmila went on a hunger strike following the death of 10 civilians at the hands of security forces at a bus stop in the town of Malom in November 2000.