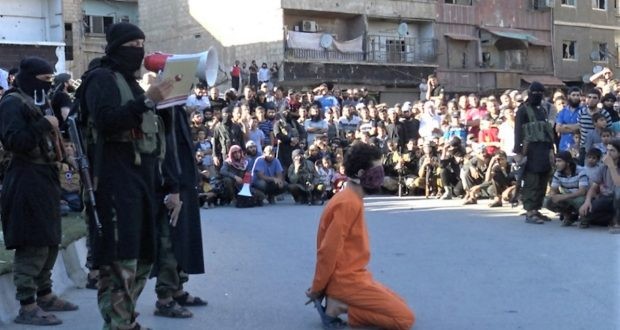 Militants from the Islamic State Group on Saturday are said to have executed four people — including two from its own ranks — on charges of sodomy and practising homosexuality. The four men were thrown off a landmark building in the central part of the city of Mosul in the Nineveh province of Iraq in full public view.
An Iraqi news report quoted sources as saying: "Isis members executed four people, including two of its own members, on charges of homosexuality and sodomy. The execution was carried out by throwing the men from the top of a former insurance company building."
The sources added: "The execution was carried out in dour al-Toub area in central Mosul. Later, the outfit transferred the bodies and threw them at Al-Khasfah hole, situated to the west of Mosul." They also said: "Even thought the National Insurance building is destroyed, the terror outfit is using it for carrying out executions."
This is not the first time the Islamic State group, also known as the Islamic State of Iraq and Syria (Isis) or the Islamic State of Iraq and the Levant (Isil), has executed homosexuals in this manner. News had emerged towards the end of May that they had executed people from the LGBTQ community by throwing them off roofs of buildings, and that they had even made children watch the executions, as had been evident from photos released by the group.
Meanwhile, the Nineveh Operations Command, also known as the Nineveh Liberation Operations Command, was quoted by another Iraqi News report as saying on Sunday that a mass grave, containing the bodies of tens of policemen, had been discovered in the Nineveh province.
Nineveh Operations Command member Colonel Ahmed al-Jabouri was quoted by the report as saying: "Security forces at the recently-liberated al-Jawaana village discovered a mass grave containing the remains of 30 policemen of the Nineveh Police. The victims' bodies show signs of torture and [they] were shot in the head and chest."
This was the latest in a series of mass graves that are being discovered as Isis loses ground and retreats, leaving the signs of its actions in its wake. At least 50 such mass graves have been discovered across Iraq and Syria in this year alone.