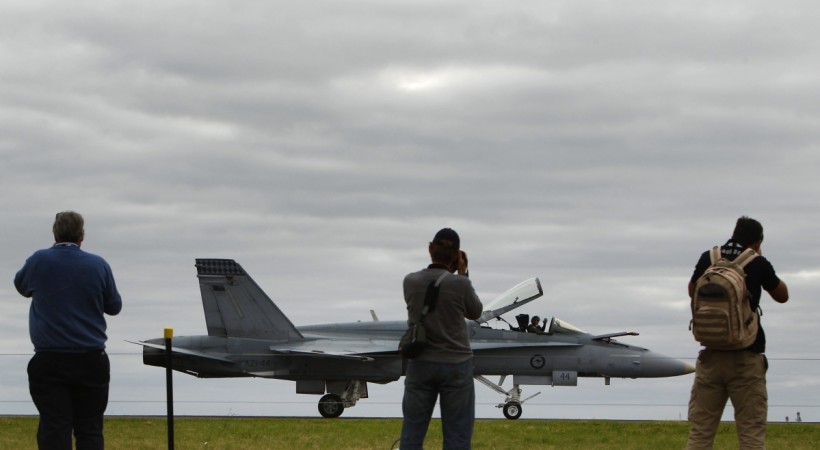 Two Australian hornets dropped six bombs as part of botched coalition air strikes which killed dozens of Syrian forces earlier this year, a US-led military investigation has confirmed.
In September, coalition aircraft accidently bombed forces aligned to the Syrian government in an operation around the Deir al-Zor military airport in Syria's east, which was supposed to target ISIS fighters.
Russia claims as many as 83 people were killed.
The investigation blamed "unintentional human errors" for the deadly mistake, while Australia's Defence Department has confirmed two RAAF hornets dropped bombs in the incident.
According to the Sydney Morning Herald, up to 83 irregular pro-Syrian regime forces, who the investigation concluded were not wearing uniforms and were equipped and behaving in a fashion similar to ISIS fighters, were killed in the strike, in which aircraft from the US, Britain and Denmark also took part.
The Australian Defence Force's Chief of Joint Operations, Vice-Admiral David Johnston, said the investigation had found decision-makers had not been made aware of some caveats in the intelligence-gathering and analysis when they concluded the fighters belonged to ISIS should be bombed.
"The decision-makers acted appropriately on the information available to them but there was information in the system that may have caused another judgement to have been formed or at least a pause to say, 'We need to recheck some of these assessments,'" Vice-Admiral Johnston said.
The heavily-redacted, four-page executive summary states that the "targets were struck in accordance with the law of armed conflict and the applicable rules of engagement for all nations involved". The team interviewed more than 70 military personnel from the US and other coalition countries for the report.
According to NPR, the report says that the forces did believe they were targeting ISIS positions, even though there were problems with information flow and human errors like confirmation bias that led them to that conclusion.
US Air Force Brig. Gen. Richard Coe, who led the investigation, said, "the personnel on the ground equipped with military weapons and vehicles were not wearing recognizable uniforms. They had no unit flags or insignia or markings that we could observe and this was one set of factors that made it possible to see [ISIL] fighters were actually what we now think were likely forces aligned with the Syrian regime."
Some of the reasons why the forces were misidentified are still classified, according to the Pentagon.