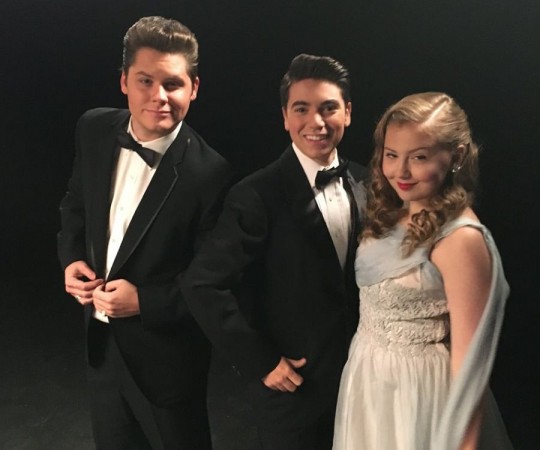 "The Real O'Neals" has two more episodes to go in Season 1, but ABC has already announced that the comedy centred on the Irish-Catholic family of the O'Neals will return with Season 2. International Business Times spoke with Matt Shively, who plays the 17-year-old Jimmy O'Neal, about the upcoming season, among other things.
ABC has quite a few popular comedy family shows, including "Modern Family," "Black-ish" and "Fresh Off the Boat." Shively, however, clarifies what sets "The Real O'Neals" apart from them: "The biggest difference between us and the other shows like 'Modern Family' is that, we focus on a very specific subject. I've always said that the first season is very much like one long movie and I think that we focus on one specific subject which is Kenny being gay and we follow it all the way to the end."
The show itself focuses on a quintessential Irish-Catholic family that has a lot of personal issues bottled up. One eventful night, they let out all of those issues and end up having to deal with problems they were not ready to face. Considering the subject of "The Real O'Neals" there has been a certain amount of backlash, but a lot of it seems to have stemmed from ignorance about the show.
"I think a lot of people just thought that we were trying to thrash the Irish-Catholic families and trying to poke fun at certain things that aren't meant to be poked fun at, and I think once we aired people realised that it wasn't all specifically about thrashing somebody," says Shively, adding, "We have definitely reached out to a very young crowd and we are telling them it's okay to be who you are."
Also Read: Fans vote Kim Chi as "RuPaul's Drag Race" Season 8 winner
However, the Irish-Catholic community has not taken too kindly to the content of the show, but as Shively puts it, "everybody will find something to complain about... I've learned that's just how it is and I don't really listen to it."
However, that does not mean he will let people insult his TV brother Noah Galvin who plays Kenny, whom Shively considers his more mature younger brother. "Any time someone tries to get closer or try to talk to him, whether he wants to or not, I kind of act as his bodyguard sometimes. He is just like my younger brother. I would never let anything happen to him. Just like Beebee [Wood] is my little sister I would never let anything happen to her," he elaborates, adding, "I've fortunately been in the business longer than them and I know how people react and I know what to look out for and I just try to make sure that they continue to be happy and that no one is bothering them."
So the love we see on-screen is present off-screen as well? "We are really a family. During Christmas we were all in separate states with our families and we texted each other over 270 times. We really truly are a family," reiterates Shively.
The same love is shared with their on-screen parents, Martha Plimpton and Jay R. Ferguson, as well. Shively explains that despite being in the business for so long, the actors are still open to learning new things from the kids. On their part, the children "learn how to properly act on set and how to be around people that we are working with."
Also Read: Watch Eddard Stark vs Ser Arthur Dayne fight with lightsabers
Although Season 1 focused on Kenny, "The Real O'Neals" now have the opportunity to shift the spotlight to other characters as well, namely, Shively's character Jimmy. The oldest son of the O'Neals', Jimmy is a wrestler dealing with anorexia. With no known precedent of such a role in Hollywood, how did Shively prepare for it?
"I didn't research that much. I went into it just being myself and luckily, that's what got me the part. And we didn't really focus on male anorexia, and that's something I hope that we focus on a little bit more in Season 2. But I think that at the end of the day we went into it the way we went into it, and hopefully people enjoyed it," he says.
Shively had not even expected to land the role. "Jimmy's a jock and I have never been the jock. And, when I went into the audition, I met a bunch of people who were very jock-y. I just had fun with it. I just tried to have a good time and luckily that ended up working out for me. I only auditioned a couple of times and they told me what they wanted and luckily for me, I was what they wanted."
Hopefully fans will get to see more of Jimmy and his issues in the upcoming season. But for now, they can look forward to seeing him talk to his crush for the first time "in not an awkward way" in the season finale.
"Like I said the first season is very much one long movie and I think the fans are going to be very happy with the resolution of everybody's problems and everybody's issues," Shively adds.
We did it!!!! See you in season 2!!

— Matt Shively (@MattShively1) May 12, 2016