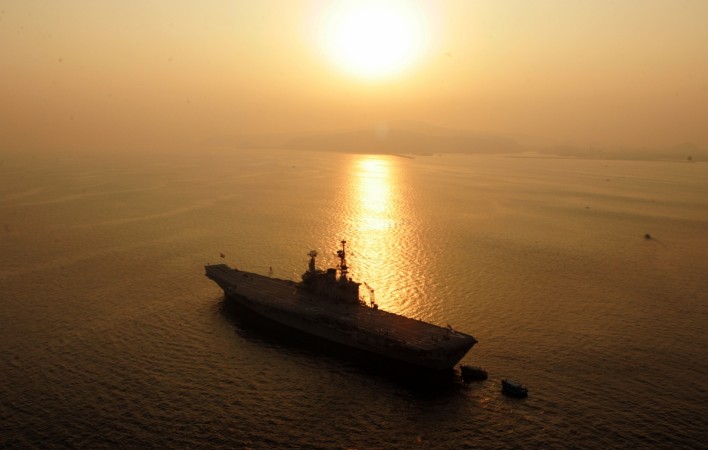 The INS Viraat was given a grand send-off at Ernakulam Wharf of Cochin Port Trust in Kochi, as it began its final voyage to Mumbai, where it will be decommissioned. It was sent on its way by dignitaries, including the Chief of Staff of the Southern Naval Command Rear Admiral Ravindra Jayanti Nadkarni.
The world's oldest aircraft carrier is expected to be decommissioned by end of this year, after 55 years of service, including 27 years with the Royal Navy.
The AP government had shown a keen interest in getting INS Viraat to berth in Vizag for promotion of tourism after its decommissioning.
Viraat — the Sanskrit word for giant — has spent 2,250 days at sea, and sailed a distance of 10,94,215 km, a distance that is as much as if she had circled the globe 27 times.
When fully operational, Viraat had a crew of 1,500. The ship also has a 12-degree ski jump and can accommodate 750 troops. The Viraat played a major role in Operation Jupiter in 1989 (Sri Lankan Peace-Keeping Force), while in Operation Vijay (1999) it created a blockade against Pakistan during the Kargil War.
The ship has also participated in international joint exercises like Malabar (with the US Navy), Varuna (French Navy), and Naseem-Al-Bahar (Oman Navy). It also holds the Guinness Book of World Records for being the oldest serving warship.
INS Viraat was the flagship of the Indian Navy before INS Vikramaditya was commissioned in 2013.
A ROYAL HISTORY

INS Viraat was originally commissioned by the British Royal Navy as HMS Hermes on November 18, 1959, 15 years after she was laid down in June 1944. She served as the flagship of the Royal Navy's task force during the Falkland Islands campaign in 1982 and was decommissioned from active duty in 1985. In April 1986, Hermes was towed from Portsmouth Dockyard to Devonport Dockyard to be refitted, re-activated and sold to India.