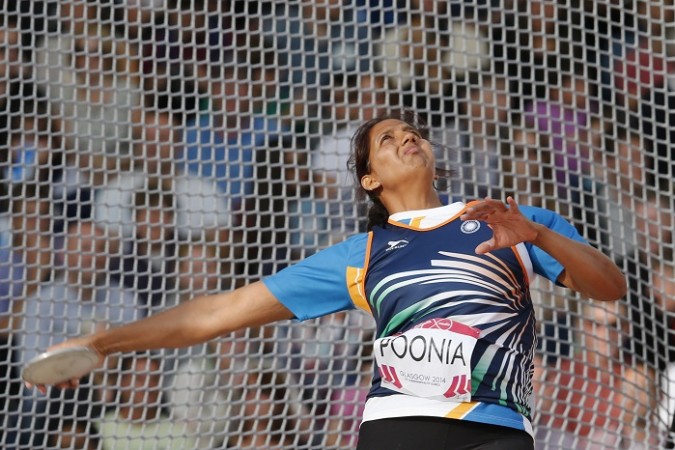 Indian discus thrower Seema Punia has landed in a major soup just days ahead of the start of the Rio Olympics as she ignored the Athletics Federation of India's (AFI) decision and went ahead to train in Russia. The nation is facing a complete ban from the Olympics 2016 after they have been alleged to be involved in state-backed doping in sports for over a four-year period.
Seema, 32, who is set to compete in the Olympics for the third time in her career, may have brought some trouble for herself for no fault of hers. The 2004 Asian Games gold medallist mentioned writing a letter to the AFI, NADA (National Anti Doping Agency) and the SAI (Sports Authority of India) about her willingness to train in Russia.
However, it is reported that even prior to the reply came from the AFI, Seema embarked on Russia to start her training. The Athletics body didn't give a green signal to her taking part in training in the European nation.
"She did write an e-mail to us that she is planning to train in Russia before the Olympics but we have not okayed it. Even before we could reply to that mail, she must be in Russia," a top AFI official was quoted by Press Trust of India on Tuesday.
"Russia is a country at the centre of the worst doping scandal and how could she have gone to train there," he added.
Seema on her part explained that the decision of the AFI hardly mattered as she was dishing out the expenses for the training from her own pocket, just like Vikas Gowda, another Rio-bound discus thrower from India.
"I don't think it's necessary [what the AFI decides]," said Seema. "The likes of Manpreet Kaur (shot putter), Vikas Gowda (discus thrower) and Inderjeet Singh (shot put) have been training on their own. They don't come to the national camp and they have their own programmes.
"The cost of this training trip in Russia is from my own pocket. The government gave money under TOP Scheme for the US training stint only and not for this. JSW gave up some help and the remaining is from my pocket," she added.
The Haryana athlete qualified for the Rio Olympics 2016 after putting up an impressive show at the Pat Young's Throwers Classic 2016 at Salinas in US in May this year that saw her throw covering a distance of 62.62 metres.
Know about discus: The heavy disc object has a weight of 2 kg (4.4 lbs) and diameter of 0.219 metre for the men's event, while for the women's event, the weight of the discus is 1 kg (2.2 lbs), having a diameter of 0.180 metre.