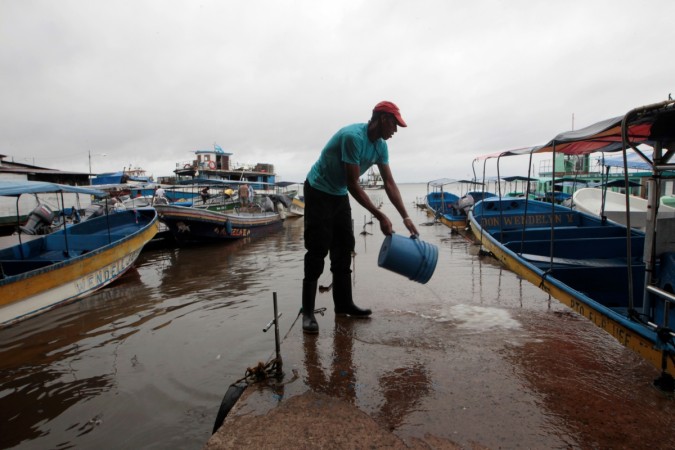 Costa Rican President, Luis Guillermo Solís, has ordered a halt to non-essential government services on Thursday and Friday, ahead of the landfall in Costa Rica of Hurricane Otto expected to occur Thursday morning.
At a press conference at 8pm Wednesday, Solís declared a national state of emergency and said that only public offices that will be involved in emergency tasks will remain open. That includes public hospitals, police stations, fire stations and courts, among others.
"I also recommend that private companies take all measures they deem necessary to safeguard their employees," the president said at the National Emergency Commission (CNE) in San José.
According to the Tico Times, earlier on Wednesday, the Public Education Ministry ordered the cancellation of classes at all public schools across the country; many private schools followed suit. All public universities also agreed to suspend classes until next week.
National Meteorological Institute (IMN) Director Juan Carlos Fallas has said that Hurricane Otto was about 300 kilometers east of Puerto Limón on Wednesday evening, and that it will make landfall through the border area between Costa Rica and Nicaragua in the Caribbean.
Nicaragua also closed schools and was evacuating more than 10,000 people from communities in the storm's path. Heavy rains were expected to affect the entire country on Thursday and Friday, raising the possibility of flooding and landslides in the interior.
The U.S. National Hurricane Center said the storm had regained hurricane strength late Wednesday night, with winds of 85 mph (140 kph), after fluctuating between tropical storm and hurricane status earlier this week.
The storm caused heavy rains in Panama as it moved roughly parallel to that nation's northern coast.
Jose Donderis, Panama's civil defense director, said a landslide just west of Panama City early Tuesday trapped nine people. Seven were rescued but two were pulled from the mud dead. In the capital, a child was killed when a tree fell on a car outside a school.
Panamanian authorities canceled school and began to release water from the locks and lakes feeding the Panama Canal.