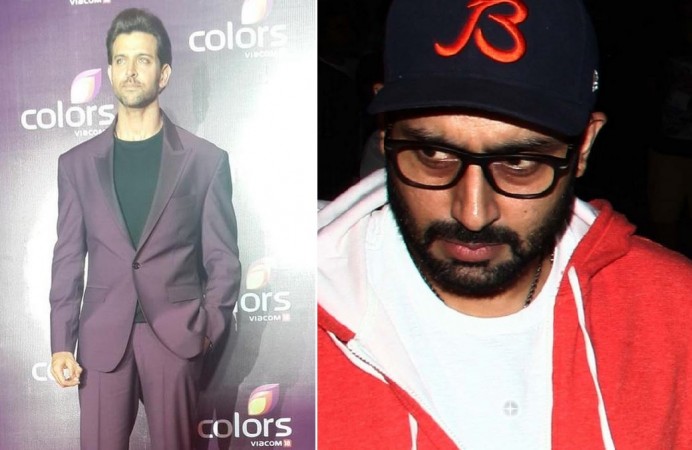 Hrithik Roshan has been advised complete bed rest after he injured himself while shooting for the period "Mohenjo Daro". But this is not stopping the actor from meeting his close friends.
Hrithik hurt himself while shooting a combat scene for the movie "Mohenjo Daro". The actor suffered a ligament injury on his foot and has been advised a month's bed rest. Despite this injury, the actor is keeping himself busy by spending time with his friends.
Kunal Kapoor, Abhishek Bachchan, Goldie Behl and Shweta Bachchan Nanda are among the regular visitors at Hrithik's Juhu residence, according to The Times of India. Hrithik, who is moving around with the help of crutches, was also recently seen partying with producer-friend Behl and Abhishek Bachchan.
Hrithik has off late been in the news for his rumoured relationship with "Tanu Weds Manu Returns" actress Kangana Ranaut. Hrithik and Kangana's sly war has become the talk of the town now.
There were reports that Hrithik is the reason why Kangana is out of "Aashiqui 3". When asked about the same, she said "exes" do silly things to grab attention. This comment irked Hrithik, who took to Twitter to say that there more chances of him having an affair with the Pope than any of the women mentioned in the media.
"There are more chances of me having had an affair with d Pope than any of the (I'm sure wonderful) women the media has been naming. Thanks but no thanks (sic)," the tweet read.
After Hrithik's comment, Kangana told NDTV that a person can have a different opinion. "No. I'm not hurt. I respect the other person's opinion also. It's very likely that a person can have a different perspective on the same situation on rather the past. But then, stick to your stand. Don't slyly pursue people and spy on them, chase them. So we sign and seal the deal and then move on," she said.