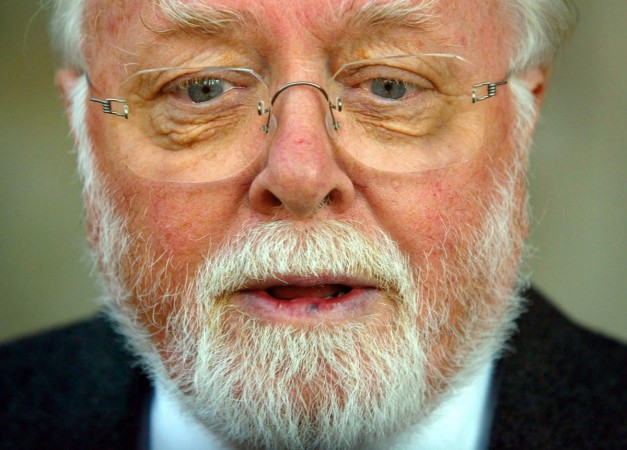 British film-maker Richard Attenborough knew little about Mahatma Gandhi before he first read a biography on him, written by Louis Fischer on a winter day in 1962, when he was almost 40.
The book had been 'pressed' on him by an Indian acquaintance Motilal Kothari, according to a 1982 report by the The New York Times. Before that, reports suggest he was 'utterly ignorant' about Gandhi's story, where he lived and the life he led, as he himself admitted in 'In Search of Gandhi' that he wrote in the year the film was released, 20 years since that winter day.
Soon, Gandhi became an 'obsession' for the British actor, who had acted in about 40 films by then.
As per the NYT report, 'Gandhi had haunted 20 of Attenborough's most productive years...Since that winter day in 1962...he had lived with Gandhi the legend and Gandhi the film as a kind of a backdrop to his distinguished acting and directing career'.
When Attenborough decided that he wanted to portray Mahatma Gandhi - the dhoti-clad, humble-looking figure who was at the forefront of India's Independence movement – on the big screen, he was soon to realise that 'nobody is interested in a picture about a man dressed up in a sheet'.
Several film companies rejected the script for its non-commercial image.
But for Attenborough, this film project was a "love affair".
"Every career decision I've made since then has been tempered by my love affair with this one project," Attenborough had told the New York Times in 1981. "I've given up 40 acting roles and a dozen directing assignments to pursue it."
Attenborough's first step in the direction of the film was to meet then Prime Minister of India Jawaharlal Nehru, a close associate of Gandhi during the freedom struggle.
As per the NYT, the first meeting between the two was set up in 1963 by Lord Mountbatten, India's last Viceroy.
''Nehru willingly said to me: 'Look, he had all the frailties, all the shortcomings. Give us that. That's the measure, the greatness of the man," Attenborough had told reporters in Delhi after the meeting.
Post the meeting with Nehru began Attenborough's main task of reading volume after volume of Gandhi's biographies and collected works.
''In a year or two there was an awful lot in my pea brain,'' he told NYT. ''The actual fundamental shape of the movie was already fixed in my mind by 1963 or '64".
Attenborough then spent the next 18 years working on the script. And it took 20 painstaking years to bring his dream to life, but not without a prolonged struggle with raising money for the film.
The film-maker mortgaged his house, sold his cars, pawned his paintings and acted in what he himself called "crap movies", according to Los Angeles Times.
He also had to sacrifice several plum offers, such as the one to become the associate director of the National Theatre in London.
He finally saw a glimpse of hope for his film when it received the backing of a London company, Goldcrest Film International and also received funds from New York company International Film Investors, and from India's National Film Development Corporation.
Finally, after almost two decades of struggle, the shooting for the eponymous film began on 26 November 1980 in India, and was wrapped in 121 days, on a budget of $22 million.
The film finally released on 30 November 1982, and then went on to grab eight prestigious Oscars, including for Best Picture and 'Best Director' for Attenborough, culminating 20 years of his relentless passion and struggle starting from that fateful winter day in 1962.
He passed away on 24 August 2014, at a ripe age of 90.