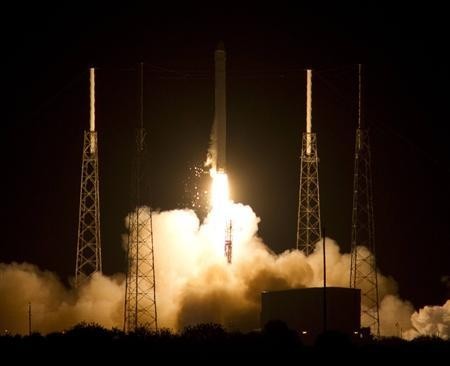 Space X is making significant progress in replicating the failure in the helium pressurization system that led to the catastrophic launch pad explosion of the firm's Falcon 9 rocket during a routine fuelling test at their Florida Space Coast launch complex on September 1, Reuters reported.
The problem at the heart of the anomaly appears to be in the helium loading system. However, the root cause of the explosion still remains elusive at this time.
"The Accident Investigation Team continues to make progress in examining the anomaly on September 1 that led to the loss of a Falcon 9 and its payload at Launch Complex 40 (LC-40), Cape Canaveral Air Force Station, Florida," SpaceX announced in an October 28 update.
The company had previously said in a statement issued on September 23 that investigators had determined that a "large breach" in the cryogenic helium system of the second stage liquid oxygen tank likely triggered the catastrophic Falcon 9 launch pad explosion that suddenly destroyed the rocket and Israeli Amos-6 commercial payload during the routine fuelling test almost two months ago.
"The root cause of the breach has not yet been confirmed, but attention has continued to narrow to one of the three composite overwrapped pressure vessels (COPVs) inside the LOX tank," SpaceX explained in the new statement issued on October 28.
"Through extensive testing in Texas, SpaceX has shown that it can re-create a COPV failure entirely through helium loading conditions."
The helium loading is "mainly affected by the temperature and pressure of the helium being loaded."
And SpaceX CEO and founder Elon Musk had previously cited the explosion as "most difficult and complex failure" in the firm's history.
"Turning out to be the most difficult and complex failure we have ever had in 14 years," Musk tweeted on Friday, September 9.
The helium loading procedures may well need to be modified, as an outcome of the accident investigation, to enable safe loading conditions.
SpaceX is conducting a joint investigation of the September 1 anomaly with the FAA, NASA, the US Air Force and industry experts who have been "working methodically through an extensive fault tree to investigate all plausible causes."
The explosion also caused extensive damage to launch pad 40 as well as to the rockets transporter erector, or strongback, that holds the rocket in place until minutes before liftoff, and ground support equipment (GSE) around the pad — as seen in photos of the pad taken a week after the explosion during the OSIRIS-REx launch campaign.
Fortunately, many other pad areas and infrastructure survived intact or in good condition.