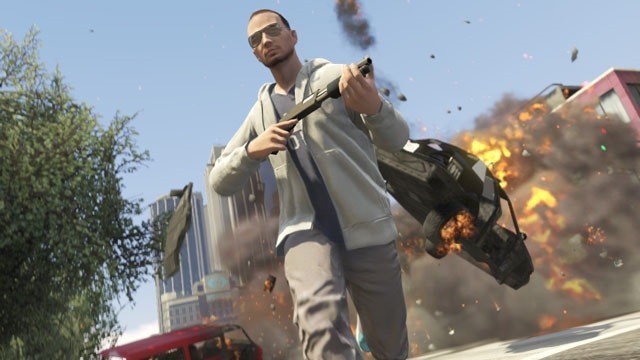 PC gamers might soon be able to play GTA 5 on their desktop, with reports emerging that Rockstar is developing a PC version of GTA 5 a month short of its official release date. The PC version of the game is expected to roll out in the first quarter of 2014, according to reports.
Eurogamer citing 'multiple industry sources' said that GTA 5 will be released during the first quarter of 2014.
Fans have signed an online petition with nearly 600,000 signatories calling for a PC release for GTA 5 on petitioning website Change.
During a financial call of GPU maker Nvidia, Chris Evenden, senior director of investor relations said, "[PC] gamers are preparing their systems for a strong roster of games coming this fall, including blockbuster franchises such as Call of Duty: Ghosts, Grand Theft Auto 5 and Assassin's Creed 4." However, the company added that it did not have any information about GTA 5's PC version.
The PC version of GTA 4 was released eight months after its release on consoles in 2008.
In June, Rockstar clairified that "we don't have anything to share about the possibility of a next-gen or a PC platform release at this time".
Patch 1.03 Released
The studio released a GTA 5 update called Patch 1.03 that addresses GTA Online issues. The patch "will resolve the cause of players losing gameplay progress except for some specific instances," Rockstar said.
The patch has been released for PlayStation 3 and is expected to be out on Xbox 360 sometime soon.
Easter Eggs and Aliens
GTA 5 has many surprises in store for players from Aliens to UFO's. Cryptic messages and Easter Eggs are waiting to be discovered in the open-world game.
Digital Spy reported that if players are able go on top of Mount Chillad using a helicopter or cable car, they will be exposed to a cryptic map.
Players have combined the cryptic drawing with that of a San Andreas map and have deciphered various UFO locations in the map.
On the north-west area of the map, players will find a small off-road lane that will have red dots on the map. Upon further inspection of the area, the scene is reminiscent of the Oscar-winning film "No Country for Old Men" when a drug deal goes wrong, leaving scores of people dead. This scene is similar and players will also be met with warning from a dying dealer to leave the suitcase with money as it was. But if player ignores it, grip yourself to be chased by two trucks.
Apart from these, players can also buy jackets like the one worn by Ryan Gosling in "Drive" and Jack Nicholson in "The Shining".
GTA 5 was released on 17 September. The game has broken all records by raking in $1 billion in three days and selling 15 million copies worldwide.