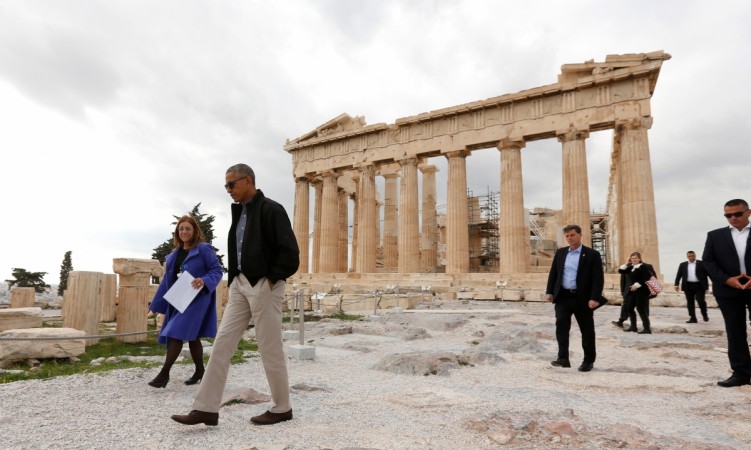 The outgoing US President, Barack Obama is on his last global tour.
While back in the US all eyes are on President-elect Donald Trump and his evolving cabinet, Obama took the time to reassure America's allies that while a Trump presidency might throw shadows of doom, it's not all gloom.
Speaking in Athens, Greece, Obama was in fine form, telling the gathered crowd about the importance of democracy and "free and fair elections, because citizens must be able to choose their own leaders. Even if your candidate doesn't always win".
"We compete hard in campaigns in America and here in Greece, but after the election, democracy depends on a peaceful transition of power, especially when you don't get the results you want. And as you may have noticed, the next American president and I could not be more different," Obama continued.
"We have very different points of view, but American democracy is bigger than any one person. And that's why we have a tradition of the outgoing president welcoming the new one in as I did last week. And why, in the coming weeks my administration will do everything we can to support the smoothest transition possible, because that's how democracy has to work."
"As hard as it can be sometimes, it's important for young people in particular, who are just now becoming involved in the lives of their countries, to understand that progress follows a winding path," he said.
"Sometimes forward, sometimes back, but as long as we retain our faith in democracy, as long as we retain our faith in the people, as long as we don't waver from those central principles that ensure a lively, open debate, then our future will be okay. Because it remains the most effective form of government ever devised by man."
CNN reported that while on his final overseas trip as President, Obama faced urgent questions from his counterparts about Trump's victory and his plans for the US going forward.
Obama, the network reported, has attempted to strike a conciliatory tone, insisting Trump remains committed to transatlantic ties and NATO, despite the Republican businessman's statements during the campaign.
Obama repeated his assertion Wednesday that the US commitment to NATO and Europe would continue under Trump's presidency, saying the treaty to protect allies was ironclad.