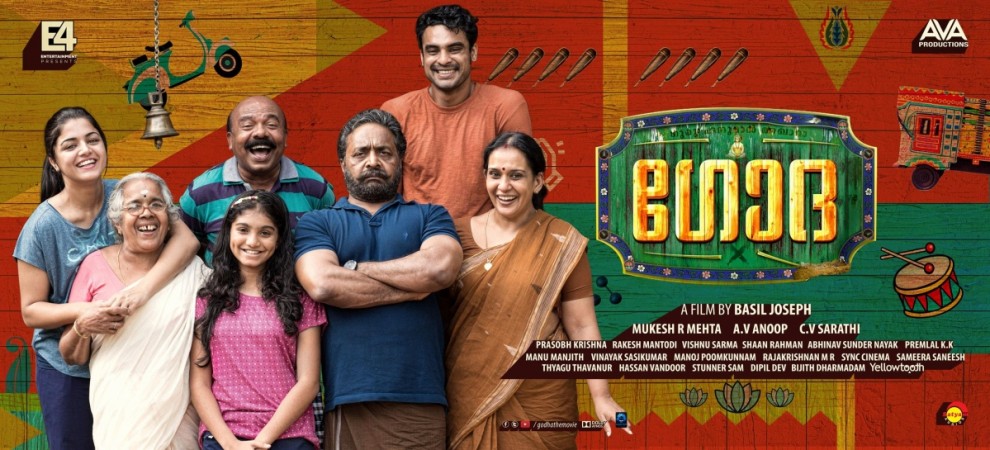 Tovino Thomas and Wamiqa Gabbi's Malayalam movie Godha was released across Kerala on Friday, May 19. From the reactions of the audience after the opening day shows, it is understood that Godha is all set to be Mollywood's Dangal in many aspects.
Check audience review on Godha movie
As of now, only positive reviews have poured in for Godha from audience, critics and celebrities alike. Actor, director Roopesh Peethambaran of Oru Mexican Aparatha writes: "Godha is a massy entertainer!! Good Job Boys."
Director Lal Jose
Watched Basil's Godha ! I have had also seen Kunjiramayanam, and in the very next film the director made a big progress in the making style and narration. One of the best in the new league of directors ! I feel lucky to pick up the cameraman and the music director of Godha in my new film. Both made magic :D Tovino, you learnt the art of subtle performance so well, making the audience love you in all your scenes. I officially declare my jealousy to Ranji Panikker for being so fit and strong :D After 'Jacobinte Swargarajyam', you climbed up to the next step here. Finally, the one made me fall for the film is the heroine, a pure talent sharpened with hard work ! Mass claps for all of you guys ! Enjoy the success!
Meanwhile, actress Chandini Sreedharan, who was last seen with Dulquer Salmaan in Comrade in America, is also all praise for the Tovino-starrer after she watched its FDFS with the team of Godha.
"Absolutely LOVED the movie!! A complete entertainer with the right amount of comedy, love, emotion & excitement!! The entire cast did an amazing job!! Toviii... loved the cuteness you brought on screen for #AnjaneyaDas!! Thanks for making #Aditi so adorable yet aggressive @wamiqagabbi!! @ajuvarghese... Aju chettaaa & #Hareesh Chetta you guys were awesome!! & omggg I think my faaav was #RenjiPanicker Sir!! Director @ibasiljoseph... when can we work together?? Absolutely loved your vision & direction!! & @shaanrahman... LOVE LOVE LOVED the soundtrack & background score Shaaanika!! Amazing team!! Well made complete family entertainer!!
Critics are also commenting good words about Godha, calling it a completely packaged movie with right amount of comedy, emotion, love and thrilling moments. Film critic Chandra Mohan Gopinath of The Cinema Company says: "Godha is the ideal choice that can serve your appetite for enjoyment."
Wrestling is the core theme here but the smartness shown in packaging the film with adequate doses of humor, emotion and other fun elements puts Godha in a territory that no one can complain about. How a Punjabi girl Adithi Singh lands up in a remote village in Kerala where we have an interesting tussle going on between some new generation cricket fans and an older generation of hardcore wrestling players and followers is beautifully presented in a colorful fashion.
Direction
Chandra Mohan has also mentioned about director Basil Joseph's improvement in maturity level that is very evident from what he has done for Kunjiramayanam. "The improvement in maturity level as a director is definitely there to be seen in how he has dealt with the subject and the apt treatment given to it. Wrestling is at the centre of everything the story says but here we see lot of humorous moments and funny scenes that help the film to travel to the finishing stages without much boredom and lagness," he adds.
Script
Despite being a predictable storyline at some point, Godha is said to have good humour that impresses the audience. "Rakesh Mantodi's screenplay has ensured that the movie doesn't get uninteresting at any point. The film runs to just two hours and in that two hours we are given what we want and the team of Godha are successful in creating a good atmosphere inside the theatre with no place for boredom," writes Chandra Mohan.
"While the first half of the movie engages the audience through numerous comic sequences by Das, his friends, and glimpses of colorful campus life in Punjab, the second half packs hardcore action, fights and a thrilling gusthi match," according to Amrutha Menon at Manoramaonline.
Performances
Meanwhile, Aswin Bharadwaj S of Lensmenreviews claims that Godha cannot be called just a Tovino Thomas' movie, as both Wamiqa and Renji Panicker have been given equal weightage or sometimes greater than the young star's character Anjeneya Das.
The good thing about Tovino in the film is the way he has handled the humor. It never has a gimmick kind of feel and the actor was also good in those portions where the character undergoes that transformation. For me the real surprise was Wamiqa Gabbi. She has really made an impact through her screen presence. Her body language and looks have that earnestness of a wrestler and her performance looks honest on screen. Renji Panicker gets a really good character in the form of Captain and he manages to bring in the heft and emotional vulnerabilities of that character. The gang of Das comprising of actors like Aju Varghese, Dharmajan, Hareesh, Sreejith Ravi etc. offers ample humor. Others in the cast including Parvathy, Mamukoya, Hareesh Peradi and several more, were also pretty effective.
Technical aspects
"The film is rich with beautiful visuals and credit for that goes to Vishnu Sarma who has handled the camera work and ensured his work gets noticed. All the wrestling scenes and fights were choreographed quite well. We cannot compare it to a movie like Dangal but whatever wrestling scenes we have in Godha didn't look bad. Credit for that goes to the action choreographer plus the cameraman and also the editor," writes Chandra Mohan.
According to Tennyson Thomas of Movies Of The Soul, "the humour is really good with this one, and those scenes providing goosebumps as well as the emotional side – all remain strong right there. The songs as well as the background music are really good, and the same can be said about the visuals, all keeping the level of this movie high."
"Godha can be a fun watch for those who don't bother to compare it to other movies of the genre. Godha has a lot of easy-yet-effective comedy, aptly conceived music and flawless acting as well," reads the review by Deepa Soman in The Times of India.