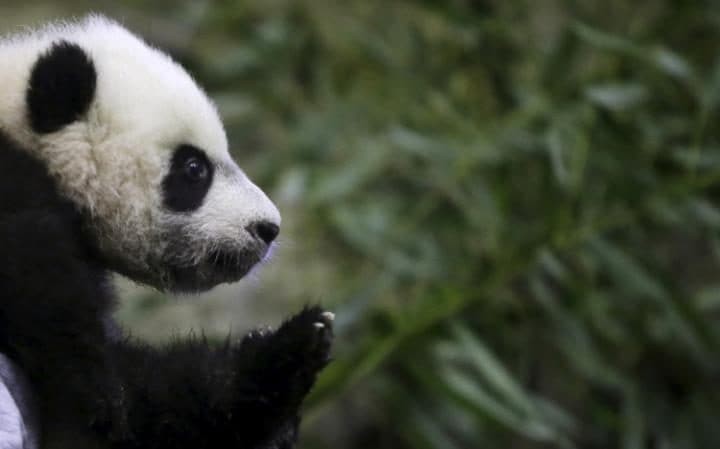 Bei Bei, a giant panda cub who is a star attraction at the Smithsonian's National Zoo in Washington, D.C., was in stable condition after emergency surgery to remove a "lemon-sized mass of bamboo" lodged in his digestive tract, officials said.
The one-year-old panda, the youngest of the zoo's four giant pandas, started showing signs of stomach discomfort and nausea on Thursday, Thanksgiving Day. He was sleeping more than usual and had little appetite for bamboo, his favorite food.
Veterinarians performed an ultrasound on Friday morning, revealing a life-threatening blockage in his small intestine. A volunteer veterinary surgeon then performed the operation to remove the dense, masticated mass of bamboo, which was preventing intestinal movement.
"Bei Bei's prognosis is very good," zoo director Dennis Kelly said in a statement.
The zoo said it will post daily updates on Bei Bei's recovery on social media.
Over the next several days, Bei Bei will be housed separately from his mother and will not appear on the National Zoo's panda cams. The panda house will be temporarily closed while he recovers. Visitors can still see Bao Bao, Mei Xiang, and Tian Tian in the outdoor yards.
The 90-pound cub was an internet sensation even before his birth on Aug. 22, 2015, as people around the world monitored his mother's pregnancy on the zoo's "panda cam" in anticipation of his arrival at the Washington zoo.
First lady Michelle Obama and Peng Liyuan, the first lady of China, selected the name Bei Bei, or "Precious," for the cub from a list of suggestions from the staff of the National Zoo and a panda reserve in China.
As part of the zoo's breeding agreement with the China Wildlife Conservation Association, all cubs born at the National Zoo move to China by the time they turn 4.
There are an estimated 1,864 giant pandas in the wild, according to the International Union for Conservation of Nature, which classifies them as "vulnerable".