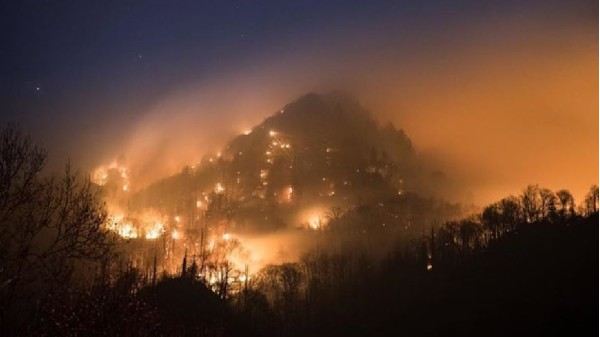 Emergency officials in Tennessee said that at least 100 buildings have been affected by raging wildfires in the Great Smoky Mountain area of the state.
The Tennessee Emergency Management Agency said in a news release that at least 10 of the homes that were impacted were in Gatlinburg, including a 16-story hotel and an apartment complex. According to FOX 17 Nashville, 30 structures have been burned in Gatlinburg.
Guest cabins at country music icon Dolly Parton's Dollywood have been evacuated, according to a representative for the resort and the state's emergency management agency.
The news comes as a portion of Pigeon Forge, where Dollywood is located, have come under a mandatory evacuation order.
Dean Flener, a spokesperson with the Tennessee Emergency Management Agency, told ABC News that the wildfires reached "right on the doorstep" of the Dollywood theme park but that firefighting crews managed to stop the blazes from progressing into the park overnight.
"We have fire crews on the park working with our team to protect structures," said Pete Owens, Dollywood Director of Media. "There is fire on the ridge near the park."
Owens said the guests in the property's cabins have been relocated.
There was so far no fire in the park, about 8 miles outside of Gatlinburg, as of late Monday night, Owens said.
A representative for Dolly Parton said that everything was OK so far inside the park as of Monday night.
Tennessee Emergency Management Agency also reported that Ober Gatlinburg amusement park was reportedly entirely destroyed, but a spokesperson from Ober Gatlinburg said their structure on the mountain and their animals in the wildlife enclosure are safe.
"A video posted on Ober Gatlinburg appears to show the facility is OK this morning. We received on-the-ground reports last night and early this morning indicating the facility was destroyed. We are relieved to know this important Tennessee destination is still there," said TEMA in a statement.
Many East Tennessee organizations and businesses are helping evacuees after a wildfire in the Great Smoky Mountains National Park.
Yassin's Falafel House is holding an emergency supply drive Tuesday. Supporters can drop off cases of water or Gatorade in the public parking area near 706 Walnut Street in downtown Knoxville. The restaurant will have a U-Haul truck there from 10 a.m. to 6 p.m, or when the truck is full. The items will be taken to Gatlinburg later in the day.
Barker Lounge in Sevierville is taking in pets of evacuees. People are able to donate animal crates to the shelter.
Sacred Heart School will be helping firefighters and other first responders on the scene. The church is accepting bottled beverages (water, Powerade, Gatorade, etc.), high calorie food in minimal packaging (ClifBars, Larabars, etc.), gloves, lip balm, wool socks. Drop off will be in front of the parish offices near the right of the school. A white box truck will be in the front.
There will be a donation drive at the Knoxville Expo Center Tuesday.
The Ice Chalet will be accepting water, blankets, Gatorade and protein bars. Supporters can receive a free public session pass, if they bring a case of water or Gatorade.
YMCA will be accepting donations at all of its locations in East Tennessee.
Remote Area Medical is accepting donations at its headquarters at 2200 Stock Creek Boulevard in Rockford. People can bring Gatorade or water which will be taken to shelters. To donate call, 865-579-1530 for more information.
Lafollette Church of God will be accepting donations: bottled water, Gatorade, lip balm and granola bars.
Christ The Rock Church of God will be collecting cases of water from 6 p.m. to 9 p.m. at 4306 Washington Pike in Knoxville.
People can drop off donations at Blount Partnership, 201 S. Washington Street in Maryville and Townsend Visitors Center at 7906 E. Lamar Alexander Parkway. Donations can be water, food for animals and more.