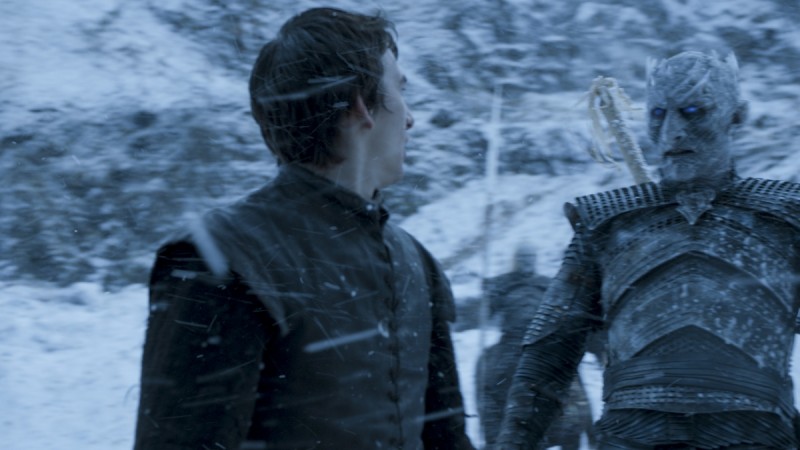 The synopses for the upcoming two episodes of "Game of Thrones" has been released, and it gives a hint at what's in store for some of the key players in the fantasy drama adapted from George R. R. Martin's "A Song of Ice and Fire" series.
Season 6 episode 6 is titled "Blood of My Blood" and will air on May 29. "An old foe comes back into the picture. Gilly meets Sam's family. Arya faces a difficult choice. Jaime faces off against the High Sparrow," the synopsis states.
The next episode, titled "The Broken Man" will air on June 5. "The High Sparrow eyes another target. Jaime confronts a hero. Arya makes a plan. The North is reminded," the synopsis reads.
Although the synopses do not reveal much, the promo for next Sunday's episode hints that Benjen Stark, who was last seen in Season 1, will make an appearance in "Blood of My Blood." According to one Reddit user, Benjen might be the one to save Meera and Bran in the upcoming episode.
"Meera is alone with Bran without any protection looking at something happening in front of her. Some wights are closing in and Meera has no way of defending herself or Bran. She needs someone to swoop in and save them," Starfishsamurai wrote. "In the season 6 trailer we see a man on horseback with a flaming flail killing a wight. Whoever this is knows how to kill wights effectively and seems to have been out here for a while. Wildlings don't have horses so he had to have come from south of the wall."
Meanwhile, according to another Reddit thread, Rickon will die in one of the coming episodes of "Game of Thrones" Season 6. However, this information is yet to be verified.
"Game of Thrones" airs Sundays at 9 p.m. EDT on HBO and Tuesdays at 10 p.m. IST on Star World Premiere HD. The latest episodes can also be streamed through Hotstar.