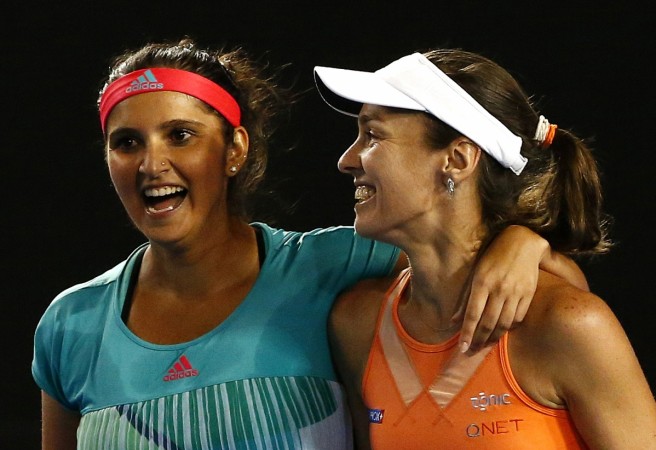 Women's Doubles World No. 1 duo Sania Mirza and Martina Hingis open their campaign in the French Open 2016 on Wednesday against the Russian pair of Daria Kasatkina and Alexandra Paneva. The sensational Indo-Swiss pair are vying for their fourth Grand Slam in a row.
Sania and Hingis won the Wimbledon 2015, the US Open 2015 and the Australian Open 2016 titles to stamp their dominance with every passing event in the women's doubles. "SanTina" have never lifted the trophy at Roland Garros, and they will be keen on checking that expectation off after bagging the trophy.
The unseeded pair of Kasatkina and Paneva may be deemed as the underdogs in the match, but it has to be recalled that the 19-year-old Kasatkina was one half of the pair alongside Russia's Elena Vesnina, who halted Sania and Hingis' 41-match winning streak earlier this year at the Qatar Open.
"SanTina" won their sixth title of the calendar year and their first-ever title in a clay court when they won the Italian Open 2016 just prior to the start of Roland Garros 2016.
"We have been one of the best teams on the tour and are confident of our chances," Sania was quoted as saying by India Today. "Definitely, this is as good as a preparation as there can be. We are happy to get into Roland Garros like this, the two finals at Stuttgart and Madrid but especially to win in Rome was good."
Hingis, 35, also remains positive ahead of the start of their campaign at French Open 2016. "Especially after the last three Slams, this is the Santina Slam that should be happening. This title in Rome gives us greater hope since we hadn't won as much on clay as everyone expects us to," said the Swiss tennis sensation.
"So definitely, more positive going into Roland Garros."
Where to watch live
Women's doubles: Sania Mirza/Martina Hingis vs Daria Kasatkina/Alexandra Paneva is the second game in order of the day at Court 16. The match is expected to start at 11:30 a.m. GMT (5 p.m. IST, 7:30 a.m. EST) on May 25.
Viewers in India can catch the action on Neo Sports and Neo Prime.
Viewers in the UK can catch the action on ITV and ITV Player. In Europe, the destinations remain Eurosport and Eurosport Player.
Viewers in the US can catch the action on Tennis Channel, ESPN and NBC. Live streaming destinations includeTennis Channel live, Watch ESPN and NBC Sports Live Extra.
Viewers around Hong Kong, Thailand and Singapore can catch the action on Fox Sports Asia.
The radio destination of the event remains Roland Garros Radio.