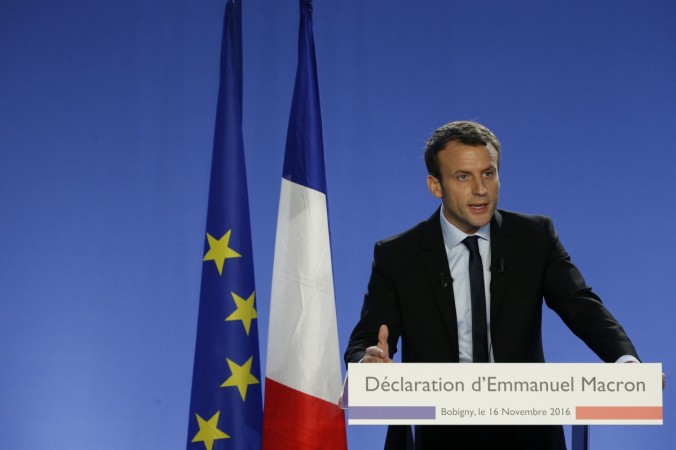 Former minister Emmanuel Macron launched his bid for the French presidency on Wednesday, a move likely to take votes from mainstream candidates in a tight race, where opinion polls predict a strong showing for far-right leader Marine Le Pen.
According to France 24, the 38-year-old former investment banker quit his job as economy minister earlier this year and has set up his own political movement called En Marche (Forward).
Despite his past role in Socialist President François Hollande's government and as an adviser to him before that, Macron is not a member of the Socialist Party.
He is also not an elected politician, and commentators say his lack of a party apparatus makes him an unlikely winner.
The BBC reports that his move has unsettled Republican rivals vying to be selected in new US-style primaries from Sunday.
Earlier, frontrunner Alain Juppe accused Macron of betraying President Francoise Hollande, and said he had "stabbed him in the back".
The former economy minister is a one-time protege of the president who quit the unpopular Socialist government in August amid discontent within the party over his political ambitions.
Hollande has not yet confirmed whether he will stand for re-election and will make a decision in the coming weeks. He has the lowest popularity ratings of any post-war French president.
Macron launched En Marche in April to promote "new ideas... neither of the right nor the left". The movement now has almost 97,000 members and has already received €2.7m ($2.9m; £2.3m) in donations, according to the BBC.
Macron's widely-expected intervention comes just days before the first round of the primaries of the Les Republicans party and its centre-right allies on Sunday, and the timing was not lost on one of Juppé's supporters in parliament, Benoist Apparu.
"He said, broadly - 'I am going to do politics differently, outside of political clans and parties'" Apparu said on BFM TV. "And then the first thing he does is a purely political, calculated, electoral move, telling himself, 'I will try and falsify ... the result of the centre-right primary."
Juppé's main rival to win that contest is former president Nicolas Sarkozy, who has positioned himself to ex-prime minister Juppé's right in an attempt to capture voters worried about immigration and security.