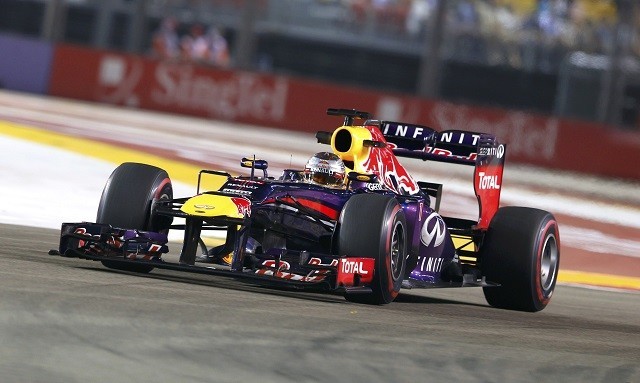 The Red Bull dominated Friday practice in the Formula One Singapore Grand Prix with Sebastian Vettel again expected to dominate and build on his already sizeable lead in the drivers' championship standings.
Vettel and teammate Mark Webber dominated the second free practice session on Friday evening with the German timing 1:44.249, while the Australian finished with a time of 1:44.853.
The two Mercedes drivers were third and fourth with Nico Rosberg coming in ahead of Lewis Hamilton and Vettel reckons it is the Mercedes that will pose the biggest threat come race day.
"I think Mercedes is very strong, so we have to watch out for them," said Vettel, who has won the Singapore GP in the last two years.
"I know that we have a strong package and that the track suits our car, as we have demonstrated today. We also know that overtaking is not the easiest of things here, so much will depend on qualifying and your race strategy.
"When you look at the season so far, we've done well at very different tracks so nothing speaks against a good result for us. Tomorrow (Saturday) afternoon we will be a bit wiser -- and on Sunday evening we'll know."
Coming in fifth in the timesheets was Lotus driver Romain Grosjean, with Fernando Alonso in the Ferrari finishing sixth on the night. Jenson Button will take some encouragement after taking seventh, ahead of soon-to-be Ferrari man Kimi Raikkonen.
Hamilton was reasonably satisfied with the car's performance on Friday, but realizes there is plenty of work to be done before qualifying.
"It wasn't the perfect Friday for us but we got on with our programme and know where we have to make improvements for tomorrow (Saturday)," Hamilton said. "The balance of the car felt really good in P1 but it definitely went away from us in P2.
"There is a lot of work to do this evening but we're used to that on a Friday night and will just get on with it and focus on our car and performance. It's so difficult to overtake around this circuit that you want to qualify as high up as possible and, of course, aim for the front row but that will be tough. The circuit is much improved here without the chicane and Turn 10 feels like a much nicer corner now."
Where to watch
The race is scheduled for a Live telecast on Star Sports 2 from 6.15 p.m. You can catch the qualifying online with the official live feed HERE.