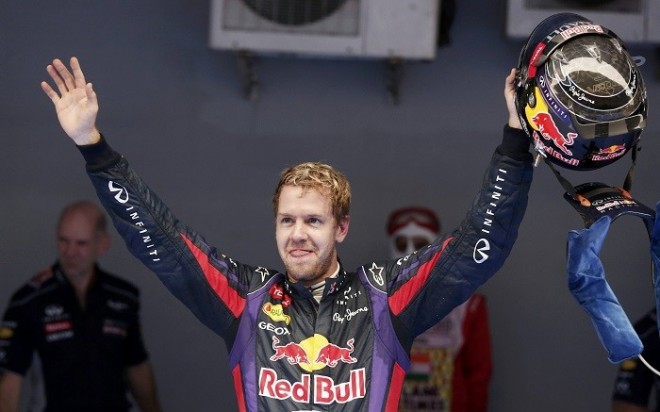 Sebastian Vettel romped to his fourth straight Formula One drivers' championship title with a comfortable victory in the Grand Prix that he pretty much owns - the Indian GP.
Vettel has been in irrepressible form this season, with his Red Bull head and shoulders better than the rest, even his own teammate Mark Webber.
The German won by 30 seconds from the rest of the field for his sixth straight win this season and tenth overall.
Vettel now has 322 points in the drivers' championship an uncatchable 115 points ahead of Fernando Alonso, who went into the Indian GP at the Buddh International Circuit as the only man that could stop Vettel from the inevitable, but could only manage 11th.
Vettel becomes only the fourth driver to win four world championships, joining an illustrious list that includes Alain Prost, Juan Manuel Fangio and Michael Schumacher.
"It's been a phenomenal season," he said at the presentation ceremony. "I think the spirit inside the team is so strong. It gives me so much pleasure to get in the car and go out for the guys and just try to give it all I have. The car was phenomenal today (Sunday).
"It was phenomenal all season, to be honest, so I couldn't ask for more. I want to say a big thank you to the team, to all the people that were behind us.
"It was for sure not an easy season, even though people from the outside got the idea that we had it in our hands for quite a while, the last couple of races. I think it was a difficult one, all in all - very difficult for me, personally.
"To receive boos even though you haven't done anything wrong, but to overcome that and to give the right answer on the track and finally get that acceptance I think we're all looking for as racing drivers, it makes me very proud.
"To join people like Prost, Fangio and Michael is unbelievable."
Mercedes driver Nico Rosberg came in second behind Vettel, with Romain Gorsjean of Lotus, despite starting from the tail end of the field, taking third.
Webber, in his final few races before retirement, failed to make a mark in India, retiring with an alternator trouble after two-thirds of the race.
Results: 1. Vettel; 2. Rosberg; 3. Grosjean; 4. Rosberg; 5. Perez; 6. Hamilton; 7. Raikkonen; 8. Di Resta; 9. Sutil; 10. Ricciardo; 11. Alonso; 12. Maldonado; 13. Vergne; 14. Button; 15. Gutierrez; 16. Bottas; 17. Chilton; 18. Bianchi; 19. Hulkenberg. Retired: Webber, Pic, Van Der Garde.