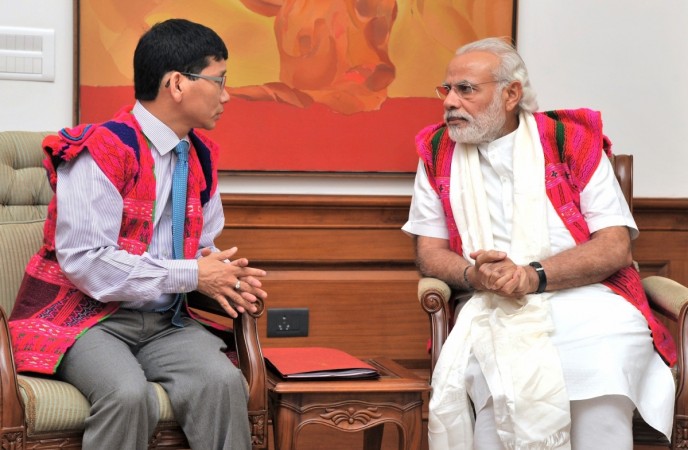 Former Arunachal Pradesh chief minister Kalikho Pul was found dead on Tuesday morning. Pul allegedly hanged himself at his residence. He reportedly committed suicide at the chief minister's official residence.
Sources at the Ministry of Home Affairs confirmed that no suicide note was found at the premises, ANI reported.
Pul, 47, was made the acting chief minister in February 2016 after rebel Congress MLAs defected from the party and brought the Nabam Tuki-led government down. He was one of the rebel Congress MLAs who had defected from the party.
In July, the Supreme Court overturned the Arunachal Pradesh Governor's decision that had allowed the Pul-led government to take over. Following the ruling, Tuki took the CM's post and had to resign after less than a week since Congress rebel MLAs were not happy with him. After a floor test was conducted to show strength of majority, Congress leader Pema Khandu, who had rebelled and left the party only to return a few months later, was made the chief minister.
Before the floor test, Pul had paraded MLAs supporting him to the media to show that he had a majority in the Assembly. However, many MLAs reverted to the Congress fold and Khandu was sworn in as the new Arunachal Pradesh chief minister on July 17.
Before the floor test was scheduled to be conducted, the Congress Legislature Party elected Khandu as the new leader.
Arunachal Pradesh Assembly is a 60-member House, with effective strength of 58. Currently, Congress has support of 47 MLAs, including two Independents, while opposition BJP has 11 members.
Pul had also returned with 30 dissident MLAs. His demise, only weeks after being deposed from his position, has shocked the political fraternity in India.
I'm shocked to hear the terrible news of the death of Kalikho Pul ji. Can't believe it. I just landed at Bali in Indonesia for Counter Terrorism Conference. Will make best efforts to reach for last rites. I appeal for maintaining of peace & honour the soul of our respected Kalikho Pul ji," Minister of State Home Affairs Kiren Rijiju said.
Former Arunachal Pradesh CM Kalikho Pul passes away in Itanagar, Arunachal Pradesh. pic.twitter.com/3rmRuo2KA3

— ANI (@ANI_news) August 9, 2016
Shocked to hear of untimely demise of promising young leader Kalikho Pul whose contributions shall always be remembered #PresidentMukherjee — President of India (@RashtrapatiBhvn) August 9, 2016
Saddened to hear of untimely demise of former Arunachal CM #KalikhoPul. Promising life cut short. @MDoNER_India pic.twitter.com/HzrPAeMYLh

— Dr Jitendra Singh (@DrJitendraSingh) August 9, 2016