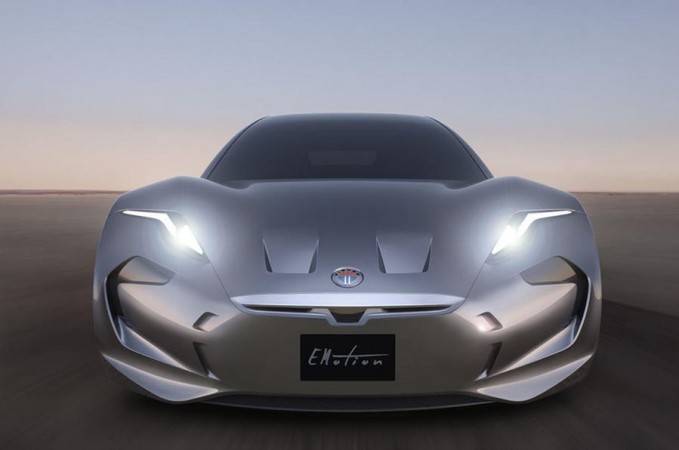 Henrik Fisker has tweeted some new images of the EMotion electric car from Fisker with a theoretical 400 mile range and 161mph top speed.
Engadget reports that overall, it looks like a softer version of the original Fisker Karma EV from the side, with a grill-less snout like the Tesla Model S.
The technical highlight is a new type of graphene battery, under development at UCLA, that (theoretically) charges faster than a lithium-ion model. The vehicle is slated to be built at an "existing facility," reportedly in California, and unveiled in 2017.
According to Engadget, the carbon fiber EV was designed to be as aerodynamic as possible, with a short, low hoodline, integrated spoiler and underbody diffuser. It also features adaptive LED headlights, dihedral (aka butterfly) doors and fully autonomous driving tech from a "soon-to-be-announced supplier."
Fisker tweeted that the vehicle will have "superb rear legroom" despite its sports-car looks.
Many analysts felt the original Fisker Karma was rushed into production after Fisker's funding was cut by the US Department of Energy. As such, it was plagued by reliability problems and battery fires, making it the Samsung Galaxy Note 7 of electric vehicles.

— Steve Dent, Engadget
An email sent to CleanTechnica provides further information: "The vehicle will include a large curved front windscreen pushed forward, diving into an extremely low bonnet. The rear features an integrated spoiler and aggressive functional diffusor to aid aerodynamics, which will help achieve a 161 mph (260 Km/h) top speed and a 400-mile (640 KM) electric range.
"Fisker has taken advantage of the newly developed electric power train layout by pushing the vehicle's entire interior compartment forward and increasing the wheelbase with distinctively short front and rear overhangs, a layout that increases the interior space.
"The interior will have more space than its closest competitors and more rear legroom than many full-size luxury sedans, despite its sporty silhouette. The Fisker EMotion will feature a composite, carbon fiber and aluminum structure with an innovative battery integration."