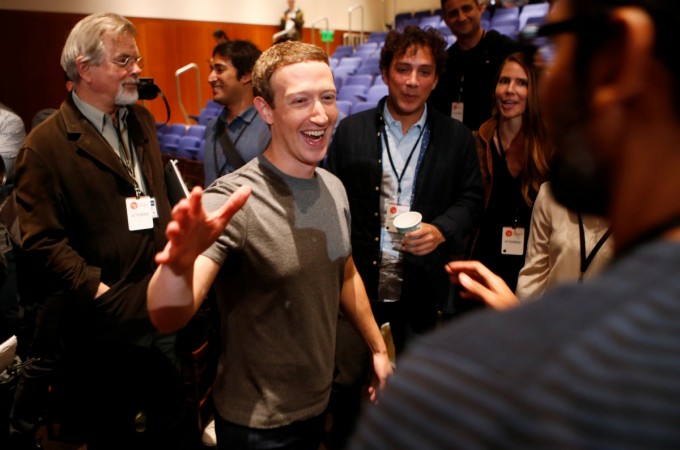 Facebook has reported a successful Q3, earning $7.01 billion in revenue and $1.09 EPS. That's from 1.79 billion monthly users, up 16 percent year-over-year, and growing 4.67 percent this quarter, speeding up from 3.63 percent last quarter. Daily active users rose to 1.18 billion from 1.13 billion last quarter, and up 17 percent year-over-year.
Facebook now has 1.66 billion mobile MAUs up 5.7 percent from 1.57 billion in Q2, and it's hit a new billion-user milestone as it reached 1.055 billion mobile-only users, TechCrunch reported.
Facebook far surpassed analyst estimates, which were $6.92 billion in revenue and $0.97 EPS. Still, Facebook's share price is down because it says it's hitting maximum ad load, which will reduce revenue growth.
Mark Zuckerberg wrote: "We had another good quarter." The company has beat earnings every quarter since it IPO'd, except for one quarter of mixed results due to foreign currency fluctuations that also hit many other tech companies.
Mobile now makes up 84 percent of Facebook's ad revenue, the same as last quarter and up from 78 percent in Q3 2015. That means Facebook earned $5.7 billion of its total $6.8 billion in ad revenue on mobile ads alone.
Facebook racked up $2.379 billion in profit, up an impressive 16 percent versus the $2.05 billion it raked in last quarter, and up a stellar 160 percent year-over-year.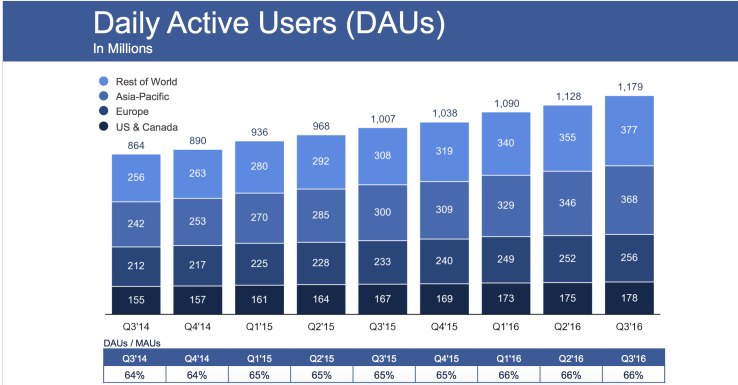 Expenditures were up slightly to $1.1 billion. Facebook is sitting on $26.14 billion in cash, equivalents, and securities now, just in case it wants to buy another WhatsApp.
"The growth rate has to be slower; it's a law of large numbers, if nothing else," Pivotal Research analyst Brian Wieser told the Wall Street Journal. "Nobody was expecting the company to grow at the same rate," he added.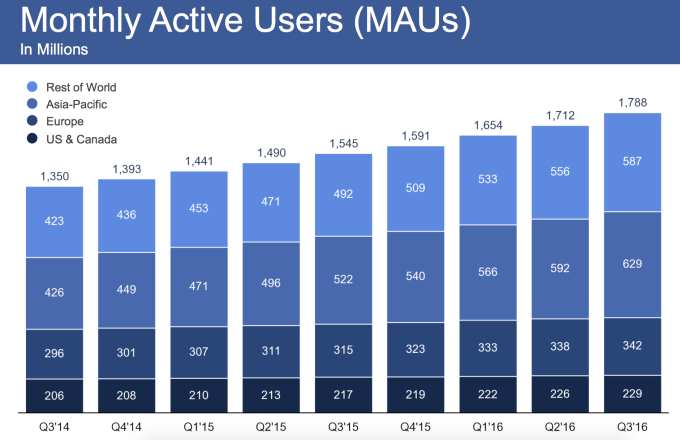 Facebook and Google together garnered 68 percent of spending on US online advertising in the second quarter — accounting for all the growth, Wieser said. When excluding those two companies, revenue generated by other players in the US digital ad market shrank five percent, according to his estimates.
"What should be a concern for everyone is the dominance of just two companies, Google and Facebook, who are capturing all of the growth in the ad marketplace," said Jason Kint, chief executive at Digital Content Next, a trade organisation that represents digital publishers such as Condé Nast, Business Insider, the Washington Post and Wall Street Journal owner News Corp."No one is able to collect data on the scale they can," he added.
Business Insider stated that Facebook is likely to talk up the company's live video strategy and its recent experimentation with mid-roll ads, for example.
Some analysts, like Macquarie's Ben Shachter, think Facebook could boost videos ad revenue even further by creating a standalone app for video, a move that would further heighten the rivalry with Google's YouTube.
Chief Executive Mark Zuckerberg said that Facebook would evolve into a "video-first" company by making video core to each of its apps. Executives predict that within five years, most of what people consume online will be video.
Wall Street Journal reported that adding more video to Facebook's news feed could boost the amount of time users spend on the site.
That, in turn, could give Facebook the opportunity to sell more lucrative video ads and potentially divert dollars from what advertisers currently spend on television ads. TV ads are a roughly $70 billion market in the US, according to eMarketer.
Facebook has also been ramping up its monetisation strategy for Instagram, and eMarketer now predicts the app will generate $1.86 billion in advertising revenue by the end of 2016.
Facebook's 2012 acquisition of Oculus for $2 billion has yet to show meaningful returns, but experts believe it could show potential once VR hardware becomes cheaper and enough compelling content is created for people who aren't avid gamers.
"It's still early days for high end VR and there are still a number of barriers to entry such as price and content," Niko Partners analyst Daniel Ahmad told Business Insider. Those barriers need to be removed before the market for high-end virtual reality can take off, he said.