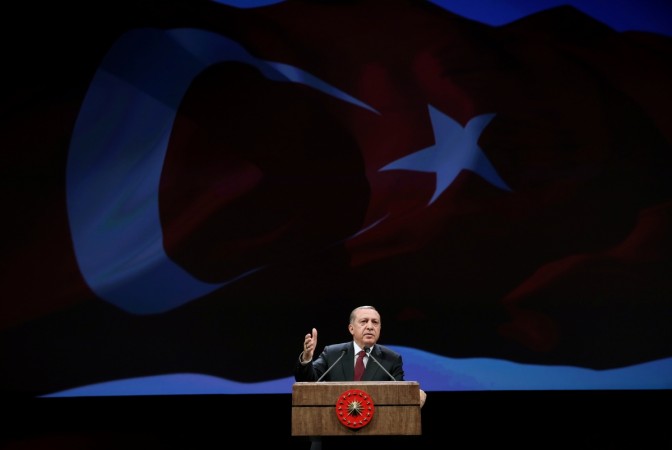 European lawmakers voted Thursday for a temporary halt to talks on Turkey joining the European Union, citing concerns over a crackdown by the Turkish government since an attempted coup in July, CNN reported.
In a statement released by the European Parliament, MEPs condemned the "disproportionate repressive measures" taken by Turkey under the state of emergency imposed following the failed coup.
These, they said, "violate basic rights and freedoms protected by the Turkish Constitution" itself.
The resolution, which is non-binding, was approved overwhelmingly -- 479 votes to 37, with 107 abstentions.
"Turkey is an important partner of the EU," the statement said. "But in partnerships, the will to cooperate has to be two-sided. Turkey is not showing this political will as the government's actions are further diverting Turkey from its European path."
President Recep Tayyip Erdogan had already dismissed the importance of the parliament's vote, saying on Wednesday it had "no value" and accusing European governments of double standards given what he said were rights abuses and democratic shortcomings within the bloc.
According to the Wall Street Journal, in recent months, some senior European officials have warned it would be a diplomatic blunder to end the accession talks, saying it would cause a needless fresh crisis between Brussels and Ankara and blunt pressures for reform within Turkey.
However, others believe that ending the talks could allow the EU and Turkey to refocus ties on areas of real mutual interest and end the constant back-and-forth over Turkey's record in moving closer to EU rules and standards.
For its part, Turkey slammed the motion. Turkey's Minister for EU Affairs Omer Celik described the motion as "null and void".
Speaking at a news conference in southern Adana province, Celik said the motion was not "something to be taken seriously".
Pointing out that it was a non-binding and non-legislative motion, the minister said:
"They adopted it for political purposes. Those who want to give us a message should know that the parliament's message would not get through the Kapikule Border Gate [a crossing point between Turkey and the West]."
Turkish Prime Minister Binali Yildirim also criticized the European Parliament's motion, saying: "This decision does not have any importance for us."
Responding to journalists' questions in Ankara, Yildirim said Turkey's relations with the EU were already poor.