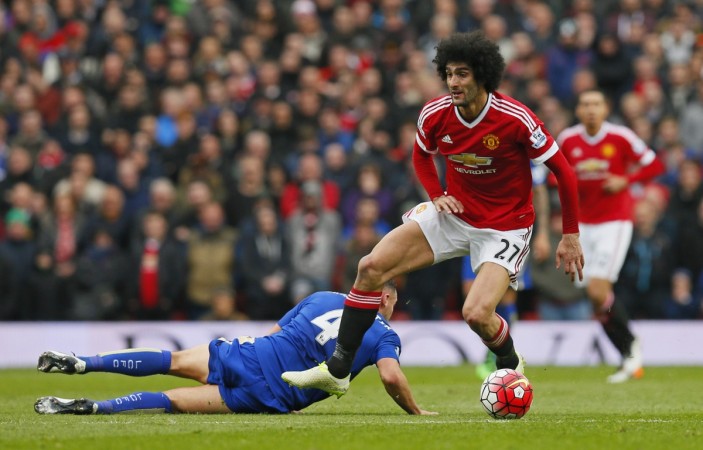 Update: The English FA have charged Manchester United's Marouane Fellaini and Leicester's Robert Huth with violent conduct on Thursday. Both players have been handed a three-match ban.
Huth will now miss the remainder of two EPL games for the Premier League champions this season as well as the first match for Leicester in the next EPL season. As for Fellaini, he will miss the next three league games for Manchester United this season but will be available to participate in the FA Cup final against Crystal Palace at Wembley on May 21.
"Both players accepted the charge, however, Huth contested that the standard penalty of a three-match suspension would be 'clearly excessive'," the English FA said in a statement. "This claim, however, was rejected following an Independent Regulatory Commission hearing today [Thursday 5 May 2016]."
Original story: Manchester United midfielder Marouane Fellaini and Leicester City defender Robert Huth may have got away with their off-the-ball antics during their Premier League game on Sunday, but their fate will be decided by the English FA on Tuesday. The duo could be facing a three-match suspension, if found guilty of violent conduct.
It all started when Huth pulled Fellaini's hair during a challenge in the 21st minute of the match at Old Trafford, where United drew 1-1 with the EPL leaders. The lanky Belgian midfielder responded to Huth's actions by swinging an elbow that came in contact with the German defender's throat. It didn't turn out to be very serious, however.
The match officials present in the field completely missed the incident, which was captured by the TV cameras. The English Football Association (FA) will now decide on Tuesday if the duo are guilty of violent conduct before announcing the possible three-match suspension, according to the BBC.
Just a week back, Tottenham Hotspur star midfielder Dele Alli was found guilty of punching West Brom's Claudio Yacob during their Premier League game on April 25. Although the incident was not spotted by the referee, the video footage was caught by a panel of three former elite referees who decided to punish the player with a three-match ban.
"Huth is lucky because Fellaini has caught him under the chin," said former Scottish footballer and Liverpool veteran Graeme Souness to Sky Sports. "If that catches him square across his face, then he's lost several teeth or broken his nose and I don't think he can stay on the pitch. Fellaini won't escape a ban for that. I just can't see it."
Manchester United manager Louis van Gaal, however, mentioned that it was entirely Huth's fault to pull Fellaini's hair, and it was completely acceptable how the Belgian midfielder reacted. "When I grab you by the hair, what are you doing? Shall I do it? It's also a penalty. When I grab your hair, you react also. I know for sure," the Dutchman retorted to the reporter's question post match.