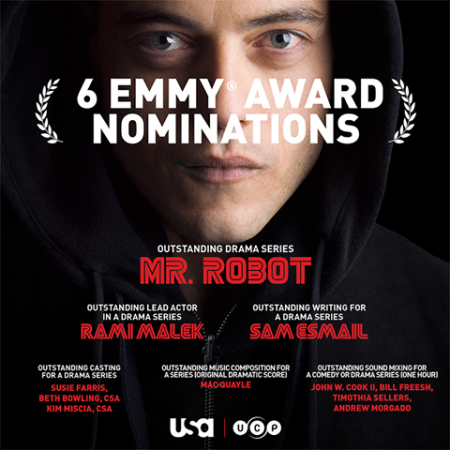 "Mr Robot," the critically acclaimed drama-thriller by USA Network and Universal Cable Productions, has been nominated for six Primetime Emmy nominations from the Academy of Television Arts & Science.
The nominations include a series nomination for Outstanding Drama Series, a nomination for Rami Malek for Lead Actor in a Drama Series and a nomination for Sam Esmail for Outstanding Writing in a Drama Series. The full list of nominations garnered by the series is at the end of this article.
This marks the first Emmy nomination for Malek and also the first Outstanding Drama series nomination for both USA Network and Universal Cable Productions.
"I couldn't be more honoured to receive this nomination. To be included among of list of actors whose work I've admired for years is truly humbling. I'm so grateful for the brilliant Sam Esmail who brought Elliot to life and has allowed me to play a role one could only dream of. Thank you to the cast, crew, USA Network and Universal Cable Productions. And, of course, to the Academy," Malek said.
Talking about the nominations that the series has received, Chris McCumber, president of Entertainment Networks at NBC Universal Cable Entertainment, said: "We are incredibly proud of this series, and pleased that the Television Academy has honored the creative vision of Sam Esmail, Rami's unrivaled lead actor performance, and Christian, Portia, Carly and the entire stellar cast and crew of 'Mr Robot.'"
"What an extraordinary journey we've all been on this year thanks to the vision and hard work of Sam, Rami and Christian, and the entire 'Mr Robot' cast and creative crew," said Jeff Wachtel, chief content officer, NBC Universal Cable Entertainment and president, Universal Cable Productions.
"Their dedication has been matched by the wonderful teams at UCP and USA. We are so proud to be part of this show."
Sam Esmail, executive producer and creator of "Mr Robot," expressed his gratitude to the entire team of the series for making the nominations possible.
"The entire team at 'Mr Robot' is thrilled with our nominations this morning. Today is officially shoot day 80 for season two and we couldn't be happier to hear the news from set. We are humbled and honored to be in the company of such innovative, groundbreaking storytelling. On behalf of the cast and crew who continue to work tirelessly to make this show, as well as USA Network and Universal Cable Productions, thank you to the Academy of Television Arts and Sciences," Esmail said.
Here is a list of the categories for which 'Mr Robot' was nominated:
1.OUTSTANDING DRAMA SERIES – MR. ROBOT
2. OUTSTANDING LEAD ACTOR IN A DRAMA SERIES – Rami Malek
3. OUTSTANDING WRITING FOR A DRAMA SERIES – Sam Esmail
4. OUTSTANDING MUSIC COMPOSITION FOR A SERIES (ORIGINAL DRAMATIC SCORE) – Mac Quayle
5. OUTSTANDING CASTING FOR A DRAMA SERIES
- Susie Farris, Casting Director
- Beth Bowling, CSA, Casting Director
- Kim Miscia, CSA, Casting Director
6. OUTSTANDING SOUND MIXING FOR A COMEDY OR DRAMA SERIES (ONE HOUR)
"eps1.5_br4ve-trave1er.asf"
- John W. Cook II, Re-Recording Mixer
- Bill Freesh, Re-Recording Mixer
- Timothia Sellers, Production Mixer
- Andrew Morgado, Foley/ADR Mixer