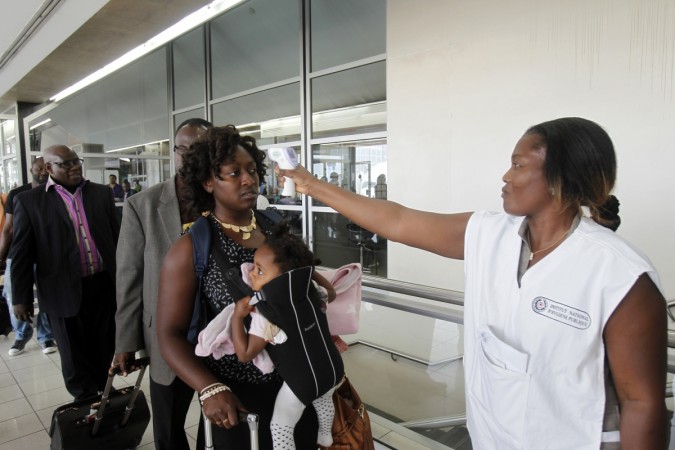 Six passengers, from the Ebola-hit nation of Liberia have been isolated after they exhibited the symptoms of the disease while travelling from Delhi to Mumbai.
The six passengers have been stopped at the Indira Gandhi International Airport (IGIA) in New Delhi and have been sent to a government hospital in the city for further tests.
The flight was steered off to an isolated area in the airport, after landing, according to a report by NDTV. Here, all the passengers were screened for the symptoms of the Ebola virus. Those found to have been exhibiting the symptoms of the virus were immediately isolated.
Meanwhile, the passengers who did not exhibit any symptoms have been cleared to proceed to the immigrations.
The passengers on these flights have to come through at least three other countries – Libeira, South Africa, United Arab Emirates or Ethiopia. All of these countries have screening procedures ready at their airports, and the passengers would definitely have been screened for the symptoms of the deadly disease.
However, how these three passengers got through the screening in these countries, without being isolated, is another question.
The passengers who are found to be exhibiting the symptoms of the Ebola virus are to be shifted to an isolation ward, either at the Ram Manohar Lohia (RML) Hospital, or the Yellow Fever Hospital, in New Delhi.
Mumbai also has similar screening procedures in place, as an Indian passenger travelling from Lagos Nigeria, was isolated at a government hospital, under Brihanmumbai Municipal Corporation (BMC), according to a report by Firstpost.
The West Africa Ebola outbreak has been the deadliest. It has a mortality rate of around 60 percent, and has killed 1,427 people, while 2,615 others have contracted the deadly contageon. The disease first broke out in the remote forests of Guinea, in West Africa, and then spread to the neighbouring countries of Liberia, and Sierra Leone, before it spread to Nigeria.
On Monday, an outbreak of Ebola was also reported in the Democratic Republic of Congo, which is in Central Africa. However, it is not clear whether the species of virus found in Congo is the same as that of the West African Ebola virus. If it is not the same species, it is very likely that the Congo strain of the virus could be a lot less harmful than the West Africa strain.