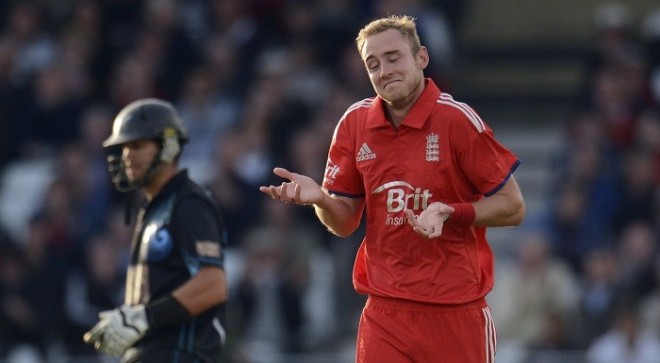 England will have to contend with dry wickets in the series against India, fears fast bowler Stuart Broad.
There were complaints about the English pitches being dry in nature, similar to the subcontinental wickets, in the recent series against Sri Lanka. The visitors won the two Test series 1-0.
Broad fears that even Trent Bridge, where he recorded a hat-trick against the touring Indians in 2011, won't afford help for the seamers.
The English quickie faulted the drainage system and expressed doubts about how much research was done about what effect they would have on the wickets itself.
"I think it's the drainage to be honest. The clubs have all spent huge money on all these drainage systems to make sure we can get out on the field but I don't know how much research was done into what they'll do to the pitches and the surfaces," The Guardian quoted the 28-year-old.
Concerns about dryness on the surface and the bounce not staying for long had been expressed by players before as well.
"I know our players three or four years ago brought the theory up that they were making the wickets too dry too early and it is quite hard to keep bounce in the wickets now unless you leave them really green which Test match wickets just don't do. So it is a bit of an issue we're suffering with I think, pitches bouncing three or four times to the keeper," Broad pointed out.
After the defeat in the Test series against Sri Lanka on supposedly dry surfaces, the state of the wickets have had the English worried. Furthermore, the lack of a spinner of the calibre of Graeme Swann to exploit the dryness, combined with the fact that India has good spinners, has made the English side even more concerned about subcontinental-type wickets.
"Lord's and Headingley turned out to be really slow and both really should have been draw wickets. It will be interesting to see how this series plays out. But if they're dry, I think India will be licking their lips with the two spinners, won't they?" Broad stressed.
Steve Birks, the curator at Trent Bridge, holds a view that will not fill Broad with the hope that green-tops will be on view in the India-England series. Birks does not want teams to be bowled out for low scores, reported ESPNCricinfo.
"The grass is dry, and we have been pushing it in every day. We have been watering around the edges. We don't want teams bowled out for 180," the curator said.
Broad's fears seem to have no effect on Birks.
"You can't try to keep too many people happy. Bowlers want one thing. Batsmen want one thing. If you can just do your best, it is up to them to perform," he added.