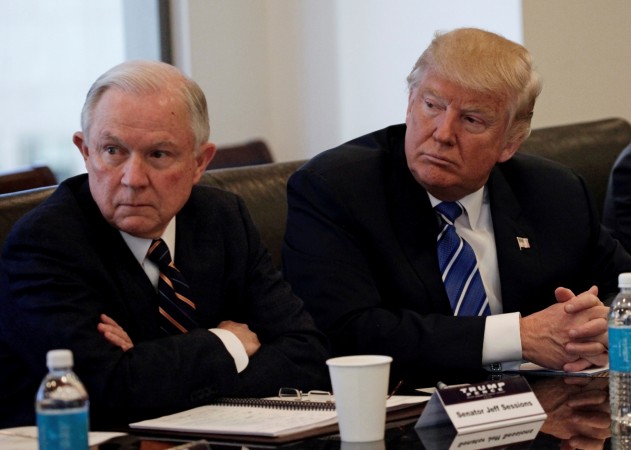 President-elect Donald Trump has offered the job of attorney general, the nation's top law enforcement official, to Republican Sen. Jeff Sessions of Alabama, according to media reports.
The New York Times and CBS News reported Friday that Sessions was picked for the senior cabinet post after meeting with the president-elect on Thursday in New York.
CBS News quotes sources directly involved in the selection process regarding the selection and the Times quotes officials close to the transition.
According to USA Today, Sessions, 69, has been in the Senate since 1997. He is a former US Attorney in Mobile, Alabama, and former Alabama Attorney General. He was the first senator to endorse Trump during the Republican primary early this year, and has been a close adviser to Trump ever since.
Representatives of President-elect Donald Trump's transition team made contact with Justice Department officials Thursday to begin the process of turning over the department to the incoming administration.
"We are fully prepared to assist the incoming transition team,'' the department said in a brief written statement. "As the president has said, we are committed to a smooth and successful transition.''
According to Bloomberg, the move would elevate one of Trump's earliest congressional backers, and one of the most conservative senators, to serve as the nation's top law enforcement official.
The 69-year-old, four-term Alabama Republican is a hard-liner on free trade and immigration, arguing that prospective immigrants don't have constitutional protections. He has opposed efforts to overhaul prison sentencing, back off the war on drugs and legalize marijuana.
Sessions, a former federal prosecutor, was one of the few lawmakers to defend Trump after he proposed a complete shutdown on Muslims entering the US. He told Stephen Bannon -- the former Breitbart News chief named as Trump's chief White House strategist -- on a radio show in 2015 that Trump was "treading on dangerous ground" but it is "appropriate to begin to discuss" the issue, Bloomberg wrote.