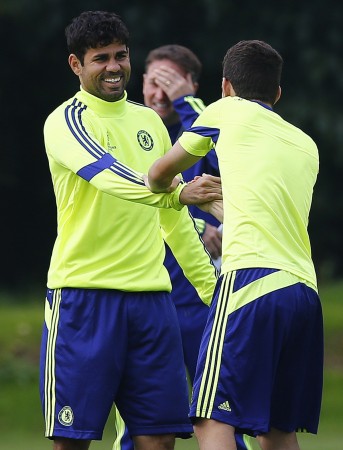 Chelsea boss Jose Mourinho revealed that striker Diego Costa did not start during the Blues' Champions League clash against Schalke due to fitness issues.
The 25-year-old striker, who has been in excellent form this season scoring 7 goals in 4 Premier League appearances, started from the bench in the Blues opening Champions League, with Didier Drogba getting the nod over the Spain striker against the German side.
Although Chelsea started off brightly with Cecs Fabregas breaking the deadlock in the 10th minute of the game, Costa's absence was evident as the Blues wasted a lot of chances, allowing Schalke to come back and rob them of three points.
Drogba's performance was especially poor as he failed to convert some easy chances and put the game to bed.
On being asked why Costa, who came in as a substitute late on in the match, did not start in this fixture, Mourinho replied that the Brazil-born striker is not fit enough to start in three games in a week.
"Diego Costa is not in condition to play three matches in a week," Mourinho told Sky Sports after Chelsea 1-1 draw against Schalke.
"He has problems when he plays one game, he needs a week to recover and now playing matches Tuesday and Wednesday he can't do it. He was not in a condition to do more than he did."
Earlier there were reports that the striker had picked up a serious hamstring injury while on international duty as he did not feature during Spain's 2016 Euros qualifying fixture against Macedonia in the recent international break.
However, all the speculations on Costa's fitness came to an end when the striker started and scored a hat-trick against Swansea City last weekend.
Now Mourinho has revealed that the 25-year-old had picked up an injury while on international duty.
"He [Costa] went to the national team and after the game against France he came back to us injured. He came to us [from Atletico] and he was completely fine. He had a problem again in the national team, not with us," added Mourinho.
However, the former Real Madrid boss insists that Costa will be starting during Chelsea important Premier League clash against Manchester City this weekend.
"Now we have the problem and now we have to resolve the problem the best we can. Today he was not in condition to play. Sunday [against Manchester City] we believe he is."