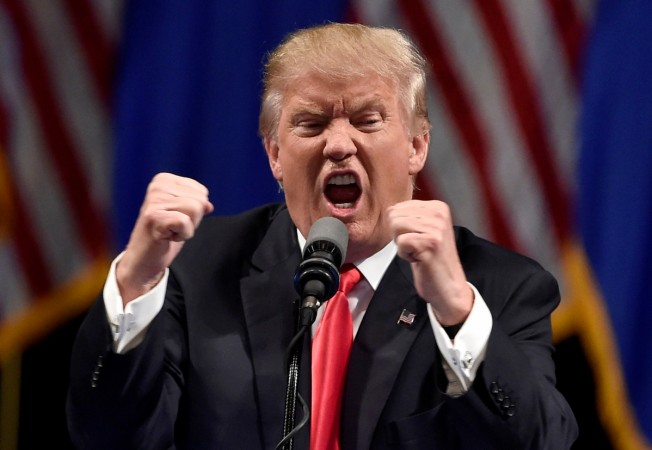 Donald Trump wants support; he needs support...just maybe not of the kind he received on Tuesday.
The Trump campaign denounced an apparent endorsement from the Ku Klux Klan publication The Crusader.
The paper's front page read "Make America Great Again," a slogan used by Trump during the election season. "You can see it on the shirts, buttons, posters and ball caps. ... But can it happen? Can America really be great again? This is what we will soon find out!" it read.
"While Trump wants to make America great again, we have to ask ourselves, 'What made America great in the first place?'" the article continues. "The short answer to that is simple. America was great not because of what our forefathers did — but because of who our forefathers were.
"America was founded as a White Christian Republic. And as a White Christian Republic it became great."
The Trump campaign sharply and swiftly criticized the article. "Mr Trump and the campaign denounces hate in any form," the campaign said in a statement Tuesday evening.
"This publication is repulsive and their views do not represent the tens of millions of Americans who are uniting behind our campaign."
Thomas Robb, the paper's editor, told The Washington Post that it wasn't necessarily an endorsement of Trump.
"Overall, we do like his nationalist views and his words about shutting down the border to illegal aliens," Robb told the Washington Post.
"It's not an endorsement because, like anybody, there's things you disagree with. But he kind of reflects what's happening throughout the world. There seems to be a surge of nationalism worldwide as nationals reclaim their borders."
The 12-page quarterly newspaper calls itself "The Political Voice of White Christian America!" and has a well-known white supremacist symbol on its front page.
The latest edition includes articles about Jewish links to terrorism, black-on-white crime and a man who claims to be Bill Clinton's illegitimate child. An article near the end of the paper says that Trump's candidacy is "moving the dialogue forward."
The publication's website says that its "number one goal" is to "stop white genocide."