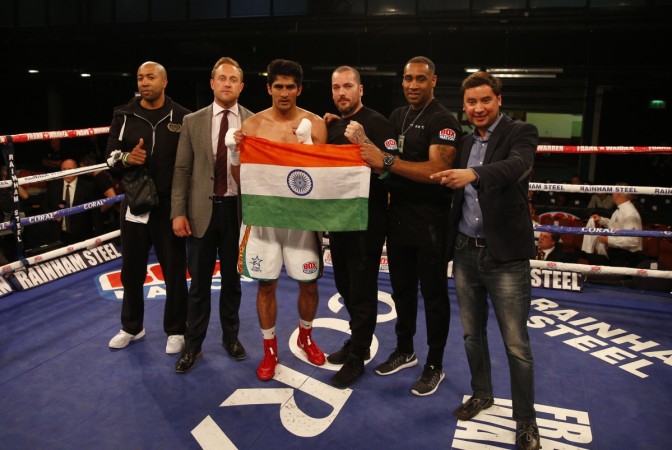 Indian star boxer Vijender Singh is fighting again on December 17 this year in New Delhi, the 31-year-old revealed via twitter on Tuesday afternoon. Vijender will be defending his WBO Asia Pacific Super Middleweight title on the same venue he won it in July this year -- the Thyagraj Stadium.
The former amateur pugilist created shockwaves in the pro boxing circuit ever since he made his debut in the more fierce form of boxing in 2015. Since then, he has won all his seven fights, with six of them turning out to be knockout victories.
In July, he showed pure class as he won his fight against Welsh-born Australian Kerry Hope via unanimous decision. The fight went the distance of 10 rounds.
"I have been in Manchester, UK for the last two months, training hard for my next fight. My trainer has been giving me high intensity training sessions, which has made my punches more powerful than before," Vijender was quoted as saying in a release on Tuesday.
"I am ready to fight anybody as suggested by the World Boxing Organisation (WBO). I am confident that I will be able to defend my title with as much pride as I won it. I am looking forward to 17th December 2016, and hope to repeat history," he added.
Meanwhile, former Indian amateur boxers Akhil Kumar and Jitender Kumar will also be making their debut as pro boxers in the fight card.