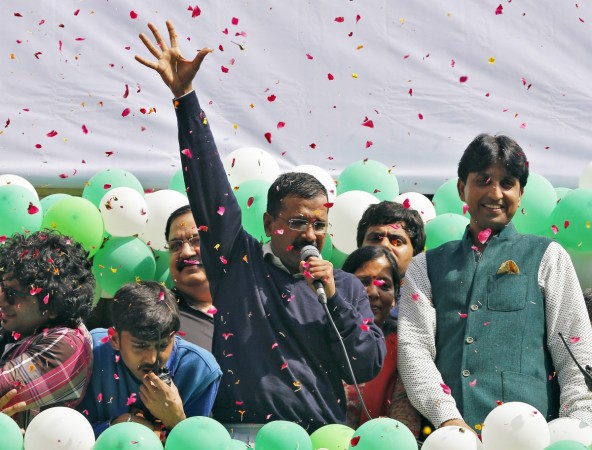 Final results:
Seats: AAP - 67, BJP and allies - 3, Congress - 0, Others - 0.
Votes share: AAP - 54.3%, BJP and allies - 32.8%, Congress - 9.8%, Others - 3.1%.
4:40 PM: Yogendra Yadav says the 'aam aadmi' has won and Aam Aadmi Party was just the means to achieve the victory.
4:10 PM: Union cabinet meet at 6:30 pm today to discuss the Delhi polls.
4 PM: Shazia Illmi denies rift within the BJP.
3:50 PM: Ajay Maken loses his deposit. Contesting from Sadar Bazar, he lost by more than 50,000 votes to AAP's Som Dutt.
3:10 PM: Percentage of votes: AAP 63%, BJP, 27% and Congress 8%.
3:07 PM: AAP leading in 67 constituencies, BJP in three and Congress in none.
3.05 PM: Kejriwal to meet party members at 5 pm.
3 PM: More good news for AAP as Arvind Kejriwal wins from New Delhi constituency and Manish Sisodia wins from Patparganj.
2:55 PM: Trinamool Congress member Derek O'Brien says that the BJP juggernaut has been halted. 'Bhag Modi Bhag', he adds.
2:50 PM: Some of the constituencies from where AAP won: Bawana, Bijwasan, RK Puram, Chhatarpur, Shalimar Bagh, Mundka, Chandni Chowk, Model Town, Ambedkar Nagar, Badarpur, Matia Mahal, Shahdara and Palam.
2:30 PM: BJP's Nupur Sharma and Congress' Kiran Walia lose.
2 PM: AAP leader Somnath Bharti wins from the Malviya Nagar constituency.
1:50 PM: Former India cricketer Kirti Azad says heads must roll within the BJP.
1:30 PM: Congress' CM candidate Ajay Maken loses from Sadar Bazar.
1:10 PM: Kejriwal to take oath as Delhi CM for the second time on 14 February at Ramlila Grounds.
Congress Fails to Open its Account
1 PM: Kiran Bedi thanks the BJP for giving her a chance to fight the elections; apologises to the party for her loss. Bedi claims to have got to know about the ground realities because of her election campaign.
12:50 PM: Contesting from the Krishna Nagar constituency, Kiran Bedi loses by over 2000 votes to AAP's SK Bagga.
12:30 PM: Respect decision of the people of Delhi, says Rahul Gandhi.
12:20 PM: Hate politics rejected: Nitish on BJP's performance in the Delhi polls.
11:50 AM: Kejriwal addresses the masses, thanks the people of Delhi; says big responsibilities lies ahead of them; adds the support they received was scary.
Thank u Sunita for always being there "@rsaraf007: Sunita Kejriwal and @ArvindKejriwal first pics after winning pic.twitter.com/eDLxfxKMbd"

— Arvind Kejriwal (@ArvindKejriwal) February 10, 2015
11:30 AM: We have learnt our lessons, says AAP leader Raghav Chadha.
11:11 AM: Modi assures Kejriwal of Centre's support.
If there is lesson for the #Congress in this it is that Modi & BJP aren't unbeatable if you take the fight to them, don't wait for mistakes.

— Omar Abdullah (@abdullah_omar) February 10, 2015
11:10 AM: Kejriwal says ending bribery top priority; will be everyone's CM; will end VIP culture.
11:05 AM: Latest reactions coming in: full marks to Arvind Kejriwal - Kiran Bedi; hopes Kejriwal delivers on promises - Maken.
11 AM: Our mission is to change the political culture, says AAP leader Ashutosh.
10:57 AM: Will meet for tea soon, Modi tells Kejriwal.
10:55 AM: There should be competition to do good for Delhi, says AAP leader Manish Sisodia.
10:40 AM: Ajay Maken to resign as Congress General Secretary.
10:35: Kiran Bedi congratulates AAP in her tweet, says she hopes Kejriwal takes Delhi to the great heights it deserves.
Here's an analysis from Mugdha Variyar on why BJP is being routed in its strongholds
10:15 AM: Anna Hazare tells Kejriwal not to forget 'andolan'. "I extend my best wishes to Kejriwalji," Hazare said; he also criticised the Narendra Modi government for enacting a legislation that makes it easy for authorities to take over land from the farmers.
10 AM: Shazia Illmi says she would like to congratulate AAP for landslide victory, adds does not regret her decision to leave the party.
9:55 AM: AAP leading in 65 constituencies, BJP leading in four constituencies and Congress in none.
9:50 AM: If AAP is ahead, it is ahead and one should accept that, says Shazia Ilmi, BJP.
9:33 AM: Kiran Bedi trails by about 1000 votes.
What Kiran Bedi Did on Her Balcony
9:31 AM: BJP spokesperson Sambit Patra admits that BJP has done really badly.
9:15 AM: Celebrations break out in AAP headquarters.
9:10 AM: Kiran Bedi trails.
My hearty congratulations to AAP for sweeping Delhi Elections. All the best @ArvindKejriwal the new CM

— Mamata Banerjee (@MamataOfficial) February 10, 2015
9:01 AM: AAP leading in 20 constituencies, BJP leading in seven constituencies and Congress in one.
The Ambanis campaigned for AAP on the streets with Jhaadu in hand. #DelhiElections

No referendum on PM Narendra Modi, says BJP's Kiran Bedi http://t.co/k3ndQspD0s #NDTVResults pic.twitter.com/E3ff67VLuO

— NDTV (@ndtv) February 10, 2015

— Wildcard Vidyut (@Vidyut) February 10, 2015
9 AM: Kiran Bedi says if BJP loses then it's her responsibility, if the party wins it's a collective effort.
No referendum on PM Narendra Modi, says BJP's Kiran Bedi http://t.co/k3ndQspD0s #NDTVResults pic.twitter.com/E3ff67VLuO

— NDTV (@ndtv) February 10, 2015
8:53 AM: Arvind Kejriwal leads Nupur Sharma of BJP.
8:5O AM: Ajay Maken trails from Sadar Bazar.
8:27 AM: Kiran Bedi leads after the first round of counting.
8:25 AM: Congress in the lead from Laxmi Nagar.
8:20 AM: Manish Sisodia of AAP leading from Patparganj, Somanath Bharti leading from Malviya Nagar.
8:15 AM: People have decided to make us win with a thumping majority; 49 days of rule last time around should convert to at least 49 seats on this occasion, says AAP leader Raghav Chadha.
8:10 AM: Results will be clear within an hour, says AAP.
8 AM: Confident of winning but don't want to get ahead of ourselves, says AAP.
7:30 AM: AAP is equal to Kejriwal, says Yogendra Yadav.
7:20 AM: Will continue working for BJP even if I don't win, says Kiran Bedi.
The stage is set for counting in the Delhi assembly polls Tuesday with the poll panel having made all necessary arrangements and candidates anxiously awaiting the outcome of the fiercely-contested election that has national ramifications.
The mood is upbeat in Aam Aadmi Party with the exit polls saying that it will win the polls to 70-member assembly. Bharatiya Janata Party workers appeared apprehensive due to exit poll results predicting a defeat but party leaders have expressed confidence about a comfortable victory.
The Congress appears reconciled that it will finish third and party leaders are hoping its tally is not worse than eight it won in the 2013 election.
The Election Commission has made elaborate arrangements for counting across 14 centres in the national capital. Counting will start at 8 a.m. and a picture about the likely winner is expected in the next two hours.
(With IANS inputs)