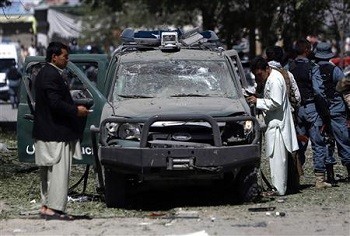 At least ten people were reportedly killed and 12 others injured in an explosion that took place outside the Indian consulate in Jalalabad, Afghanistan, on Saturday.
"A car containing explosives hit a barrier near the consulate and detonated," Ahmadzia Abdulzai, Nangarhar province spokesman, told news agency AFP. There were reportedly three suicide bombers inside the car.
Gunfire was heard following the explosion that took place at 10:00 local time. "I have heard the explosion that was followed by small arms firing," Enyat Saafi, a local journalist told The Express Tribune over phone from Jalalabad.
The Ministry of External Affairs (MEA) has confirmed that the blast happened in front of the Indian consulate and stated that all officials are safe.
"Following explosion in front of India's Consulate in Jalalabad (Afghanistan) MEA in touch with Consulate. All officials safe. Situation fluid," Syed Akbaruddin, official spokesperson of MEA, tweeted on his micro-blogging site.
Akbaruddin also said that three Afghan national policemen were injured.
The blast reportedly happened just about 15-20 metres away from the Indian consulate. The building is said to have suffered some damage, reported NDTV.
Most of the victims, who were killed in the blast, are said to be children. The wounded have been shifted to a local hospital for treatment.
The attack followed just a day after the United States issued a worldwide travel alert over fear that Al Qaeda might launch attacks in the Middle East and North Africa in the coming weeks.
In case of the blast near the Indian consulate, no one has claimed responsibility for the explosion. The Taliban, which has frequently attacked Jalalabad, has denied their involvement by sending a text message to the media.