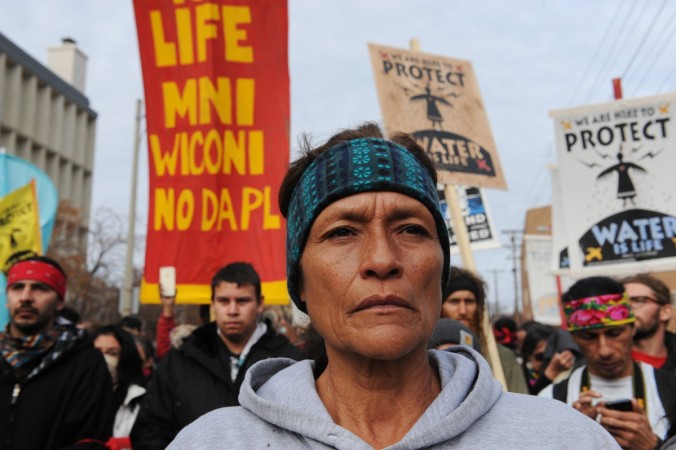 Thousands of New Yorkers will turn out on Tuesday to protest against the proposed Dakota Access Pipeline, which will carry crude oil from North Dakota to Illinois and cross through Native American territory.
The protest is scheduled to take place at Foley Square at 4pm EST.
The #NoDAPL movement, as it's called, has gained significant steam over the past few weeks, even as the nation has been distracted by 2016's weird and awful presidential election, according to the Tribeca Patch.
Protestors have called on US President Barack Obama and President-elect Donald Trump to use their executive powers to halt construction of the pipeline, which is currently on a fast-track to be completed by January 2017.
Earlier on Monday, the US Army announced it had finished reviewing its process for approving the pipeline's route on land owned by the Army Corps of Engineers.
It said, however, it needs more study and wants input from the Standing Rock Sioux before it allows the pipeline to cross under a Missouri River reservoir.
An industry group that supports the Dakota Access Pipeline says the latest decision by the Army is an attempt at "death by delay," according to Fox6 Now.
The MAIN Coalition — made of agriculture, business and labour entities that benefit from Midwest infrastructure projects — called it a political decision. The MAIN Coalition's Craig Stevens told Fox6 Now, "It's past time for the President to lift the hold on the Dakota Access Pipeline and issue the final, already approved easement."
Stevens said it's an example of why voters rejected Democrats in last week's election. And he said he hopes it's not the final word on the pipeline with President-elect Donald Trump set to take office.
The pipeline developer, Energy Transfer Partners, didn't immediately comment on the Army announcement.
Tuesday's protest in NYC will begin with an opening ceremony at the southern end of Thomas Paine Park (bordering Foley Square) at 4 pm, according to organizers. The ceremony will feature speeches, performances and a "brief on-site action training" for attendees.
The protest itself, which organisers warn will include "civil disobedience," is scheduled to get underway by 5 pm.
Among the day's speakers are Tara Houska, Standing Rock spokesperson and former Bernie Sanders presidential campaign Indigenous liaison; Roberto Mukaro Borrero, of the United Confederation of Taino People; and Crystal Migwans, of NYC Stands with Standing Rock.