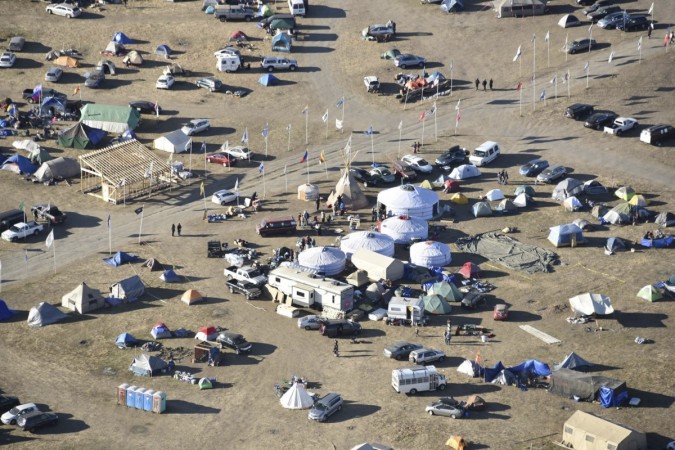 A New Yorker was hospitalized with a gruesome injury while protesting the Dakota Access pipeline on North Dakota's Standing Rock Reservation, activists say.
The woman — identified by activists as 21-year-old Sophia Wilansky — could lose her left arm after a Monday explosion behind the protest blockade near Cannon Ball tore through her winter jacket and skin, exposing bone.
The Bronx woman was airlifted nearly 400 miles to the Hennepin County Medical Center in Minneapolis following the 4 a.m. incident, said Wilansky's friend and fellow activist Vaimoana Niumeitolu.
"They're trying to see if her arm can be saved," Niumeitolu told the Daily News after speaking with Wilansky's parents.
Activists and authorities had conflicting perspectives on the blast.
Niumeitolu believes, citing witnesses, that a concussion grenade injured Wilansky. Niumeitolu alleged the device was propelled by Morton County Sheriff's Office personnel during a volatile demonstration where authorities in an armored, mine-resistant truck hosed protesters with a water cannon as temperatures plunged below freezing.
"They told me she was bringing water to people at the frontlines," Niumeitolu, who is also an activist from New York, told the Daily News.
Wilansky was bent over the grenade when it detonated and broke her arm, Niumeitolu said.
Police, however, said officers on the scene in Cannon Ball, N.D., did not deploy anything that would have caused such damage.
The conflicting accounts came after an hours-long confrontation between heavily armed law enforcement and roughly 400 protesters trying to move past a barricaded bridge about a mile south from where pipeline drilling is set to take place. With temperatures in the mid-20s, authorities sprayed the crowd with tear gas and water from hoses, and protesters reported being pelted with rubber bullets and concussion grenades, the Washington Post reported.
Grisly photos of Wilansky's injuries circulated on social media. She was pictured sitting in a vehicle with a gaping wound with tendons and what appeared to be a broken bone visible.
Niumeitolu quoted Wilansky's Facebook dispatch that announced her injuries while awaiting a medical helicopter.
"Friends, please know that I was severely, devastatingly injured by the pipeline pigs last night," Wilansky wrote. "I will be flying to Minnesota for that surgery imminently. Wish me luck."