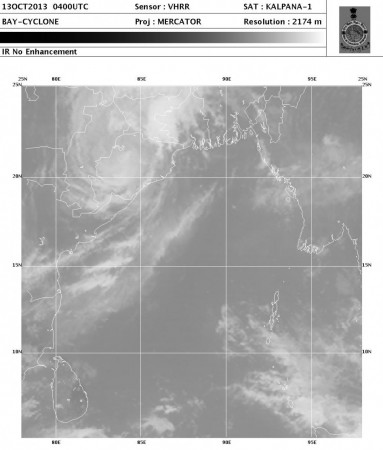 The severe tropical cyclone Phailin has reduced in intensity but continues to advance northwards from Odisha towards Bihar and Jharkhand.
As predicted by the Indian Meteorological Department, the tropical cyclone made a landfall with a windspeed of around 200kmph near Gopalpur in Odisha. Seven people died reportedly, including two from Bhubaneswar, one in Jagatsinghpur, Civil Supply Minister Pratap Deo told ANI.
As a precautionary measure, the Railway ministry cancelled 183 trains, including 96 Mail and Express trains on Sunday. More than 20 trains were partially cancelled and 26 trains were diverted.
While Andhra Pradesh is currently out of danger, the IMD has warned central-east states of Jharkhand and Bihar to brace up for flood-like situation due to heavy rains. Ranchi, capital of Jharkhand, has received heavy torrential rains.
"The system would move northwards for some more time and weaken gradually into a cyclonic storm by noon of today and into a deep depression by evening of today," IMD Odisha said in a statement on Sunday. For the next 24 hours heavy rainfall and thundershower are expected in the state.
With more than 8,73,000 people evacuated from eastern coastal areas, the priority for the Indian Army, Air Force and Navy rescue teams is to rehabilitate them.
"As cyclone #Phailin subsides, our top most priority should be rehabilitation of the affected people. Let's all work towards achieving this," Madhya Pradesh Chief Minister Shivraj Singh Chauhan tweeted.
National Disaster Response Forces have been deployed along with the Air Force and Navy teams in Odisha and Andhra Pradesh for rescue and relief operations.
Latest updates on relief operations:
Arrangements of food, drinking water and medical facility have been made at affected areas.
Road communication to be restored by Sunday evening.
Railway ministry is regularly reviewing decision to further cancel/divert/partially cancel trains. "We are taking stock as to how fast we can restore tracks and restore passenger and goods traffic," said Anil Saxena, Spokesperson of the Indian Railways.
Diesel engines have been positioned on standby at select places along with diesel generator sets for lighting and signaling purposes.
As per the statement by Railway Ministry, satellite phones have also been provided and made functional at Zonal HQ. Also emergency items, like Tarpaulins, blankets, bedsheets, GI wires, gloves, Kerosene oil, torch etc. have been supplied at the controlling stations.
Indian Army, Air Force and Navy rescue teams, which are on standby across the region, will begin massive relief and rescue operations around 2pm when wind speeds will reduce to less than 30 kmph. Currently wind speed along and off the Odisha coastlines is rough, reaching upto 55-65 kmph gusting to 75 kmph, making it impossible for choppers to land in distressed regions.
[Click here to watch Air Force Official Y K Yadav's interview].